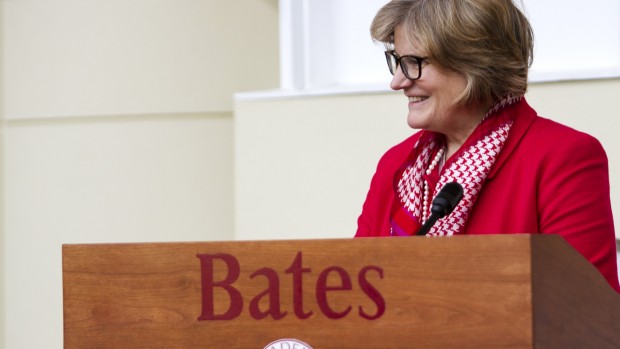 "We have ambitious goals for Bates, and I am inspired by this outpouring of support from the college community," said President Clayton Spencer.
Published on
Description

---

October 1, 2008
12:00 pm

Dances created by students and by visiting choregrapher Kellie Lynch are on the program for a Bates College Modern Dance Company concert.

July 28, 2008
12:00 pm

Scofield and Shuey's latest collaboration is part of a long-term project exploring adolescent group dynamics: how and why people fall into or push each other into the roles of "Leader," "Follower" and "Outcast."

April 23, 2008
10:24 am

The Bates College dance program hosts "Home and Away," a performance featuring dance program director Carol Dilley and colleagues from Portland and Boston, at 7:30 p.m. Saturday, April 26, in Bates' Marcy Plavin Studio Theater, on the second floor of Merrill Gymnasium, 141 Russell St.

March 26, 2008
9:36 am

Student choreographers will put their work to the test of public performance in Bates College Modern Dance Company concerts at 7:30 p.m. Friday, March 28; 2 p.m. Saturday and Sunday, March 29 and 30; and 7:30 p.m. Monday, March 31.

February 27, 2008
2:23 pm

With the theme "Musical Legacies of South and Southeast Asia," Bates College students and faculty, as well as internationally esteemed performers, present the college's World Music Week from March 5 through March 15.

January 29, 2008
3:39 pm

Paul D. Miller, the musician, essayist and media artist also known as DJ Spooky, presents a live performance of his internationally renowned multimedia project "Rebirth of a Nation" at 8 p.m. Saturday, Feb. 2, at Lewiston Middle School, 75 Central Ave.

August 6, 2007
9:30 am

Celebrating the Bates Dance Festival's commitment to producing innovative outdoor events, PearsonWidrig DanceTheater returns to Maine this summer to create another magical site-specific performance installation, this time on and around Lake Andrews on the Bates College campus.

August 3, 2007
10:25 am

Showcasing the innovative use of new technologies, Bridgman Packer Dance and BoánDanz Action present the Maine premieres of new work incorporating live dance and music with state-of-the-art video. The festival presents Bridgman Packer Dance Saturday, Aug. 4, and BoánDanz Action Sunday, Aug. 5, in Schaeffer Theatre, 305 College St., Bates College.

August 1, 2007
11:01 am

Showcasing the internationalism of contemporary dance, visiting choreographers from the United States, Africa and Latin America bring compelling styles and perspectives to the Bates Dance Festival stage with the annual Different Voices concert Thursday, Aug. 2, in Schaeffer Theatre.

July 23, 2007
9:46 am

A highlight of the 2007 Bates Dance Festival is the 25th Anniversary Gala Concert, Saturday, July 28 in the Lewiston Middle School Auditorium, 75 Russell St.