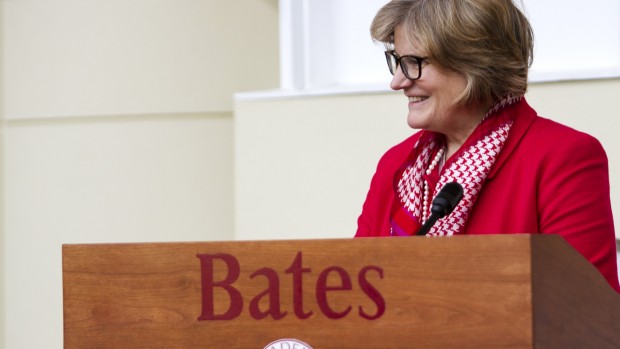 "We have ambitious goals for Bates, and I am inspired by this outpouring of support from the college community," said President Clayton Spencer.
Published on
Description

---

February 21, 2013
4:21 pm

The first weekend of March will be a rich one at Bates College for music lovers.

January 31, 2013
4:45 pm

The Feb. 9 concert by the Gerald Clayton Trio has been postponed.

January 31, 2013
4:36 pm

The third annual Bates College Folk Music Festival takes place Feb. 8-9.

January 31, 2013
3:55 pm

Hilary Poriss '91 explores the surprising variety of tasks expected of 19th-century opera singers in a lecture on Feb. 6.

January 29, 2013
10:46 am

In its third year in 2013, the Arts Crawl at Bates has become a signature event, a campus tour that showcases student expressive work across disciplines.

January 23, 2013
3:03 pm

Violinist Dean Stein and pianist Chiharu Naruse present the completeBeethoven sonatas for violin and piano in the coming weeks.

January 18, 2013
4:27 pm

A kaleidoscope of student creativity in the visual, literary and performing arts, Bates' third annual Arts Crawl takes place Friday, Jan. 25.

January 11, 2013
2:53 pm

One of the world's pre-eminent lutenists, Hopkinson Smith plays at Bates on Feb. 1.

December 5, 2012
4:42 pm

Three musical ensembles featuring Bates students will perform Dec. 5, 6 and 8 in the Olin Concert Hall.

December 3, 2012
2:32 pm

The renowned Momenta Quartet performs new music by two Bates composers on Dec. 4.