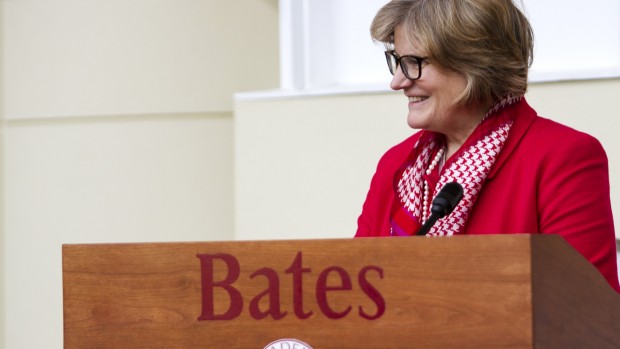 "We have ambitious goals for Bates, and I am inspired by this outpouring of support from the college community," said President Clayton Spencer.
Published on
Description

---

October 16, 2013
3:34 pm

Bates theater presents "In the Next Room (or the vibrator play)" through Nov. 4.

September 27, 2013
1:55 pm

A piano trio drawn from Maine's three selective liberal arts colleges plays French chamber music on Oct. 6.

September 26, 2013
1:23 pm

Student performers show off the vitality of dance at Bates on Sept. 28-29.

September 25, 2013
3:31 pm

Faculty from Bates and Colby perform a piece by Philadelphia's Headlong Dance Theater on Sept. 29.

September 25, 2013
12:07 pm

Japanese printmaking is the focus of a current exhibition at the Museum of Art and of a lecture on Sept. 28.

September 13, 2013
9:06 am

John Farrell of Figures of Speech Theatre recites "Four Quartets," a suite of poems by T.S. Eliot, on Sept. 27. The DaPonte String Quartet follows Farrell with a Beethoven piece thought to have inspired Eliot.

September 13, 2013
8:30 am

Joy Kills Sorrow, a Boston-based quintet known for their intelligent, wry lyricism and unique blend of styles, performs on Sept. 28.

September 9, 2013
4:04 pm

Jaed Coffin, whose first book chronicles his experience as a Buddhist monk in his mother's native Thailand, opens the Language Arts Live series Sept. 19.

September 9, 2013
2:33 pm

Images of Maine by famed 20th-century photographer Berenice Abbott and prints by Japanese artists known for pushing the boundaries of…

September 6, 2013
10:11 am

Vermont-born folksinger Sam Amidon performs in the Olin Arts Alive music series on Sept. 10.