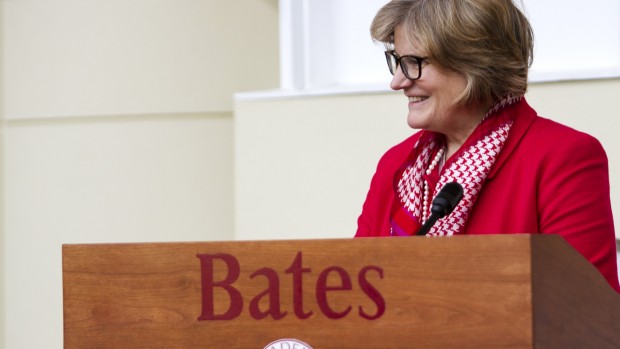 "We have ambitious goals for Bates, and I am inspired by this outpouring of support from the college community," said President Clayton Spencer.
Published on
Description

---

February 13, 2014
11:05 am

Clean and elegant, the student-produced site features an Instagram feed of artworks and a promotional video providing a whirlwind glimpse of the arts at Bates.

January 31, 2014
3:59 pm

In three separate performances Feb. 7-9, Bates presents Maine's best-known pianist, music by Austrian composer Hanns Eisler and a concert by Leyla McCalla.

January 31, 2014
3:53 pm

Leyla McCalla, a singer-songwriter who has been likened to Billie Holiday, performs on Feb. 9.

January 31, 2014
3:34 pm

Pianist Frank Glazer, artist in residence at Bates, gives a special 99th-birthday concert featuring music of Bach, Mozart, Beethoven and…

January 31, 2014
3:23 pm

Soprano Karyn Levitt and pianist Eric Ostling perform songs by Hanns Eisler in translations by Eric Bentley on Feb. 7.

January 29, 2014
10:40 am

For the fourth year, the Bates Arts Collaborative presented the Arts Crawl, a celebration of student creativity in the performing,…

January 29, 2014
9:09 am

The $1.2 million renovation features the new Digital Media Studios, a boon for faculty and students who use the screen to teach and learn.

January 28, 2014
1:19 pm

Winners of a 2011 Latin Grammy Award, the Brazilian Guitar Quartet performs at Bates on Feb. 1.

January 28, 2014
10:56 am

Prominent composers living in Maine present new music at 7:30 p.m. Friday, Jan. 31, in the Olin Concert Hall at…

January 23, 2014
3:50 pm

A schedule of events for the 2014 Arts Crawl.