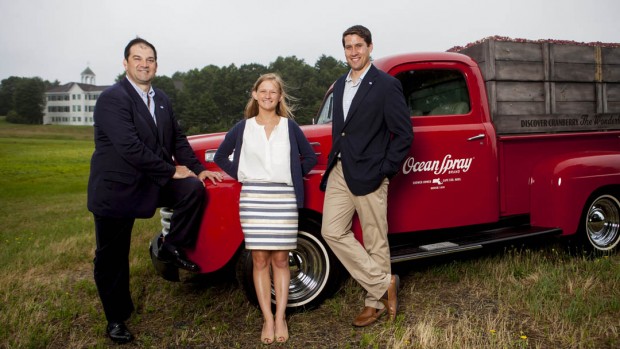 From Seattle, Wash., to New York City's Times Square, Bates students are participating in myriad off-campus experiences. The home front, of course, continues to percolate with scientific research, modern dance and extensive demolition…
Published on
Description

---

March 3, 2005
9:16 am

Faculty members in the fields of art, psychology and the study of American and African American culture were awarded tenure at Bates College this year. The three tenure recipients are assistant professor Pamela Johnson of the Department of Art and Visual Culture; associate professor John McClendon of the programs in African American studies and American cultural studies; and assistant professor Michael Sargent of the Department of Psychology.

December 1, 2004
4:00 pm

Directed by John Corrie, a member of the Bates music faculty since 1982, the Bates College Choir and other student musicians offer two very different programs in December. Both are open to the public at no cost.

November 15, 2004
1:03 pm

Robert Cogan and Pozzi Escot, known internationally as composers and as music theorists expert in relationships between music and such disciplines as math and physics, are spending a weeklong residency at Bates College that includes two events open to the public at no cost.

November 11, 2004
12:29 pm

At 8 p.m. Friday, Nov. 12, the Bates College Orchestra presents a program including a work by conductor Philip Carlsen, a setting of poems by renowned Maine writer Wesley McNair. At 8 p.m. Saturday, Nov. 13, Indonesian puppet master Joko Susilo will present a shadow-puppet performance of "The Abduction of Sinta," a central story from the Hindu epic Ramayana. Susilo will be accompanied by the Bates Gamelan Mawar Mekar ("blossom of inspiration"), an Indonesian-style gamelan orchestra, and guest musicians from New Hampshire and Minnesota. Both events take place in the Olin Arts Center Concert Hall at Bates, 75 Russell St., and are open to the public at no charge. For more information, please call 207-786-6135.

November 9, 2004
12:45 pm

The annual Writers Harvest reading at Bates College will be given by Cleopatra Mathis, professor of English at Dartmouth College and author of five collections of poetry, at 8 p.m. Wednesday, Nov. 10, in Chase Hall Lounge, Campus Ave.

November 3, 2004
1:32 pm

The Bates College Museum of Art presents a symposium on Marsden Hartley, a Lewiston native and a pioneer in modern American art, on Friday and Saturday, Nov. 5-6.

November 3, 2004
12:16 pm

Often viewed as playwright John Guare's most popular and important work, "The House of Blue Leaves" is the major fall theater production of the Bates College theater department. Directed by Professor of Theater Paul Kuritz, "Blue Leaves" will be performed at 8 p.m. on Fridays and Saturdays, Nov. 5-6 and 12-13, and at 2 p.m. on Sundays, Nov. 7 and 14.

October 13, 2004
12:22 pm

Distinguished by an eclecticism that encompasses free improvisation, Duke Ellington classics and sacred music, Boston's Aardvark Jazz Orchestra continues the 2004-05 Bates College Concert Series at 8 p.m. Saturday, Oct. 16, in the Olin Arts Center, at 75 Russell St.

October 9, 2004
1:00 pm

"It's often said that democracies are measured by the participation of their citizens," President Elaine Tuttle Hansen observed. "We are fortunate at Bates to have student Democrats and Republicans who each year take that civic commitment to heart and work to register their fellow students."

October 7, 2004
1:58 pm

The Bates College Museum of Art installation "From Middle Kingdom to Biological Millennium," by Chinese artist Wenda Gu, closes with a reception and a performance piece by Gu at 7:30 p.m. Saturday, Oct. 9, in the Olin Arts Center, 75 Russell St. The event takes place during Parents and Family Weekend at Bates.