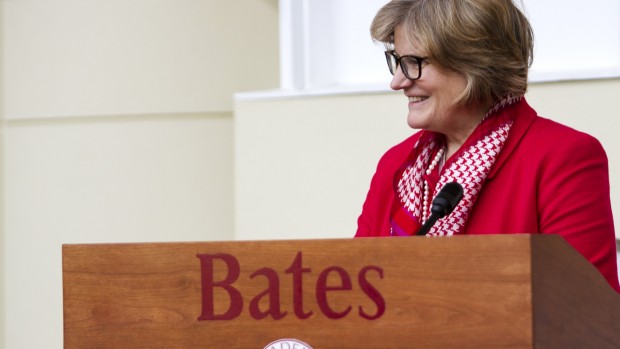 "We have ambitious goals for Bates, and I am inspired by this outpouring of support from the college community," said President Clayton Spencer.
Published on
Description

---

February 6, 2003
4:14 pm

Fourteen members of the Bates College faculty have been awarded funding for student research assistantships this summer.

January 28, 2003
3:16 pm

Senior Smadar Bakovic, an English major, will discuss Arab perspectives on the historic mistrust between Arabs and Jews.

January 27, 2003
3:11 pm

Chris Hables Gray, a noted cyberculture expert and activist, will discuss the social implications of altering the human body through technology in a lecture.

January 24, 2003
2:56 pm

An exhibition of photographs titled "From Lynn to Lhasa: Photographs of Cambodian, Chinese, and Tibetan Buddhists" by Harvard photographer Kris Snibbe opens at the Bates College Chapel on Sunday, Jan. 26.

January 22, 2003
2:17 pm

Sumarsam, a Wesleyan University professor who had his first experience with Indonesian performing arts as a boy in his East Javanese village, devotes two evenings to Indonesian shadow puppetry this week.

January 20, 2003
1:50 pm

A two-year, $50,000 grant recently received by the Museum of Art will support educational programming for 400 local middle school students at the museum. The grant supports the museum's Thousand Words Project.

January 8, 2003
3:07 pm

Award-winning filmmaker Joanne Grant, a writer and veteran civil rights activist of the Student Nonviolent Coordinating Committee, is the keynote speaker for the Martin Luther King Jr. Day observances.

December 12, 2002
2:56 pm

"Science, Power, and Difference," a new lecture series at Bates College, will present innovative research into the social, cultural and political dimensions of the natural sciences.

December 11, 2002
3:29 pm

Linda F. Williams, assistant professor of music at Bates College, has been awarded a Fulbright Scholar grant, her second, to conduct research in South Africa during 2003.

November 14, 2002
4:29 pm

With student performances of music and drama and a recital by Maine's best-known pianist in store, the days before Thanksgiving have a lot to offer in the arts at Bates College.