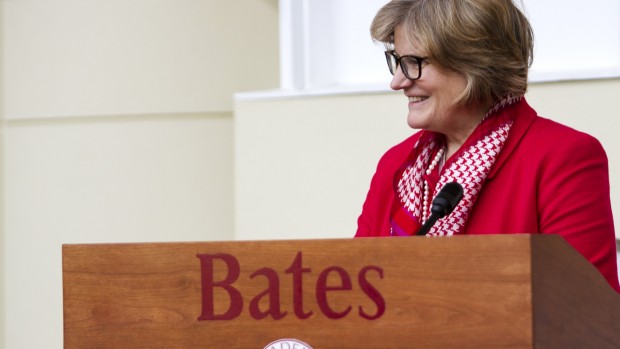 "We have ambitious goals for Bates, and I am inspired by this outpouring of support from the college community," said President Clayton Spencer.
Published on
Description

---

April 9, 2001
3:06 pm

A Brief History of Printmaking and the Annual Senior Exhibition, will be featured from April 13 to June 3 at the Bates College Museum of Art, 75 Russell St.

March 23, 2001
8:44 am

The mixed-media group Lake Affect from Buffalo, N.Y., will hold a three-day residence program at Bates College April 1-3. Concerts and workshops will be held in the Olin Arts Center Concert Hall, 75 Russell St.

March 9, 2001
3:54 pm

The Spelman College Choir will perform Thursday, March 15, at the Bates College Chapel, College St, in celebration of International Women's History Month.

March 7, 2001
3:30 pm

Mary Rice-DeFosse, professor of French, lives and works in a state in which 40 percent of the residents claim French heritage. It's no coincidence, then, that Franco-American Maine literature and culture are an important part of her work.

March 6, 2001
3:43 pm

Isn't it Romantic, a play by Pulitzer Prize-winner Wendy Wasserstein, will be performed Thursday through Sunday, March 15-18, and at 2 p.m. Sunday, March 18, at Schaeffer Theatre, 305 College St.

February 21, 2001
2:03 pm

Margaret Maurer-Fazio, assistant professor of economics, and Francisca Lopez, associate professor of Spanish, have been awarded Phillips Faculty Fellowships, announced Donald W. Harward, president of Bates College.

February 16, 2001
1:55 pm

Six studio art majors from Bates College have had work accepted to a juried exhibit titled The Next Generation, which opens Thursday, Feb. 22, and runs through Saturday, March 24, at the Center for Maine Contemporary Art in Rockport. An opening reception will be held Saturday, Feb. 24, at the museum.

January 31, 2001
9:41 am

Bates College has awarded newly endowed professorships to faculty members Jane Costlow and James Parakilas, announced Donald W. Harward, president of Bates College.

Costlow, professor of Russian and East Asian languages and literature, is the inaugural Christian A. Johnson Professor of Interdisciplinary Studies. Parakilas, professor of music, is the inaugural James L. Moody Jr. Family Professor of Performing Arts.

January 8, 2001
8:39 am

Victoria Wyeth, granddaughter of famed painter Andrew Wyeth and guest curator of the "Andrew Wyeth: Her Room" exhibit at Bates College, will discuss his work and the exhibit at 3 p.m. Saturday, Jan. 13 and 20, and Sunday, Jan. 14 and 21, in the Bates College Museum of Art, Olin Arts Center.

October 16, 2000
2:17 pm

Bates College senior Victoria Wyeth has organized "Andrew Wyeth: Her Room," the first curated exhibition by his only grandchild, as the capstone of the Bates College Museum of Art's 2000-01 season. The exhibition, with guided tours offered by Victoria Wyeth on weekends, runs from Nov. 10, 2000, through March 30, 2001. The public is invited to attend the opening reception at 7 p.m. Friday, Nov. 10, in the museum's upper gallery free of charge.