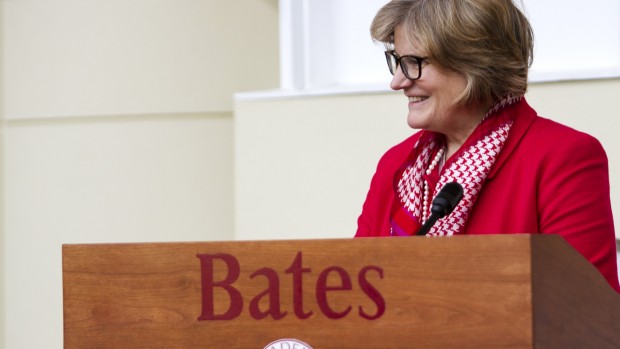 "We have ambitious goals for Bates, and I am inspired by this outpouring of support from the college community," said President Clayton Spencer.
Published on
Description

---

September 14, 2000
3:15 pm

Judith Ortiz Cofer, professor of English and creative writing at the University of Georgia, will discuss "A Casa of My Own" at 4 p.m. Thursday, Sept. 21, in the Edmund S. Muskie Archives at Bates College as part of the college's celebration of Hispanic Heritage Month. The public is invited to attend free of charge.

July 10, 2000
3:44 pm

Brunswick resident Anne Wescott Dodd, chair of the Department of Education at Bates College, has received the 2000 Kroepsch Award for Excellence in Teaching. The two-part award includes a $1,000 prize and a $1,500 discretionary fund to support Dodd's teaching.

May 17, 2000
3:34 pm

Desmond Tutu, archbishop emeritus of the Diocese of Cape Town and winner of the Nobel Peace Prize for his advocacy of racial justice in South Africa, will receive an honorary doctor of humane letters degree and speak at the 134th commencement at Bates College. Donald W. Harward, president of Bates College, will confer bachelor's degrees on approximately 475 seniors at 10 a.m. Monday, May 29, in an outdoor ceremony in front of Coram Library. In case of rain, the graduation exercises will be held in the nearby Margaret Hopkins Merrill Gymnasium.

May 4, 2000
3:17 pm

Theater at Bates will stage four performances of the bluegrass gospel musical "Smoke on the Mountain" at 7 p.m. May 19, at 2 and 7 p.m. May 20 and at 2 p.m. May 21 at the Florence Keigwin Amphitheater, overlooking Lake Andrews on the Bates College campus. Admission is free with no reservations accepted. Rain site will be Schaeffer Theatre. Call 207-786 6161 for more information.

March 30, 2000
1:27 pm

Bates College students enrolled in "Literature and the Environment" will present the results of a semester-long project, "Celebrating the Places We Call Home: Stories From Lewiston-Auburn," a series of interviews conducted with 15 Lewiston-Auburn residents about places that have particular meaning for them, at 5 p.m.Friday, April 7, in Chase Hall Lounge on Campus Avenue. The public is invited to attend free of charge.

March 25, 2000
12:53 pm

The Department of German, Russian And East Asian Languages and Literatures, in conjunction with the Asian studies program at Bates College, presents "Kyogen: Comedy of Medieval Japan" to be performed by the International Classical Theater from Lawrence, Kansas, at 4:30 p.m. Saturday, April 1, in the Alumni Gymnasium at Bates College. The public is invited to attend free of charge.

March 24, 2000
12:48 pm

Thirteen Bates College seniors will show their work in the annual Senior Exhibition, on view April 7 through May 28 at the Bates College Museum of Art. The exhibition opens with a reception at 7 p.m. Friday, April 7, in the Bates Museum of Art. Also on view will be "Inner Perspectives," curated by Bates Museum of Art intern Lana Vogestad and featuring artists from the Peregrine Press. The public is invited to attend, and admission is free for the reception and both exhibitions.

March 16, 2000
12:26 pm

Portland photojournalist Jim Daniels will discuss "Witnessing Spirit: A Photojournalist's View" at 4:30 p.m. Monday, March 27, in Skelton Lounge of Chase Hall on the Bates campus. The public is invited to attend free of charge.

March 6, 2000
2:05 pm

Bates senior theater majors Chris Mathien of Veazie, Maine, and Kathleen Wyatt of Braintree, Mass., will stage "An Evening of Performance Art" at 8 p.m. March 24 and 25 and at 2 p.m. March 26 in Gannett Theater, Bates College.

February 18, 2000
2:34 pm

Poet-memoirist Gregory Orr will read from a memoir about his troubled relationship with his father, supplementing his presentation with related family poems at 8 p.m. Wednesday, March 8, in Chase Hall Lounge, 56 Campus Ave. The public is invited to attend free of charge.