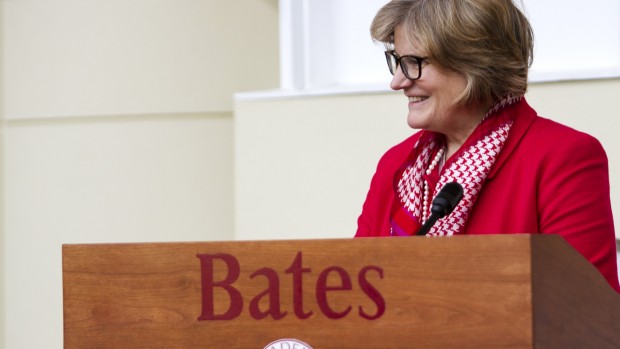 "We have ambitious goals for Bates, and I am inspired by this outpouring of support from the college community," said President Clayton Spencer.
Published on
Description

---

November 8, 2013
3:25 pm

A senior dance major's thesis piece and a work by the Urban Bush Women are among highlights of the Bates College Dance Company's autumn program.

November 8, 2013
3:14 pm

Visiting Assistant Professor of Music Scott Ordway leads the Bates College Orchestra in the world premiere of his Symphony No. 3 on Nov. 9.

November 7, 2013
5:02 pm

The movie draws obliquely on her Bates experience.

November 7, 2013
2:04 pm

Not many people can share lessons from creating an opera. David Carpenter '94 is one.

November 4, 2013
10:44 am

Three theater majors present one-act plays in November that they are directing as independent study projects.

November 1, 2013
10:00 am

When rhetoric professor Stephanie Kelley-Romano says "myth," she means this.

October 31, 2013
11:00 am

Bates debate ranks fifth in the U.S., trailing only Yale, Harvard, Brandeis and Rutgers.

October 28, 2013
9:23 am

"I'm interested in the cultural place of the movies, and how they help us think about social identities," says Jonathan Cavallero, assistant professor of rhetoric.

October 21, 2013
4:41 pm

Frank Glazer, a pianist of international renown, performs sonatas by Mozart, Weber, Hindemith and Beethoven on Oct. 25.

October 16, 2013
3:44 pm

Monica Wood, author of a popular memoir about growing up in a small Maine town in the early 1960s, speaks at Bates on Oct. 28.