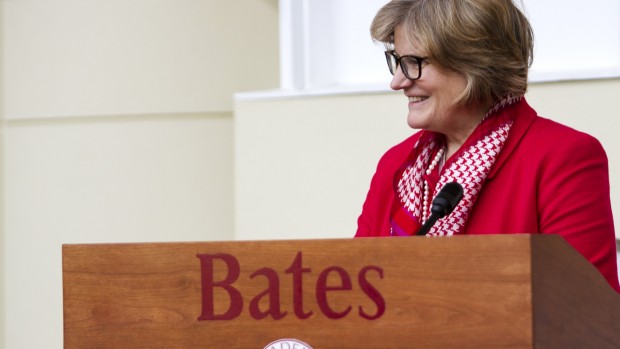 "We have ambitious goals for Bates, and I am inspired by this outpouring of support from the college community," said President Clayton Spencer.
Published on
Description

---

October 28, 2008
4:57 pm

Sulochana Dissanayake '09 of Pita Kotte, Sri Lanka, directed the Bates College theater department's mainstage production of "A Lie of…

October 28, 2008
12:00 pm

Bates College senior Sulochana Dissanayake of Pita Kotte, Sri Lanka, directs the Bates theater department production of A Lie of the Mind, Sam Shepard's realistic portrayal of two American families.

July 1, 2008
12:56 pm

Professor of Theater Paul Kuritz says the time is ripe for his efforts to advance film production in the Bates curriculum

May 12, 2008
1:36 pm

Hungary's leading playwright, György Spiró, offers a talk called "Trends in Contemporary Eastern European Drama" at 4:30 p.m. Tuesday, May 13, in Skelton Lounge, Chase Hall, at Bates College, 56 Campus Ave.

March 17, 2008
2:07 pm

"I've always had a plan for myself," says Stephen Lattanzi '08 of Winchester, Mass. And ever since he performed in a production of Robin Hood in second grade, theater has been central to that plan. At Bates, Lattanzi has acted in eight stage productions, often in lead roles.

February 27, 2008
2:05 pm

Martin Andrucki, Dana Professor of Theater at Bates, directs the college theater department production of "Measure for Measure," William Shakespeare's dark comedy about sex, public morality and private hypocrisy.

February 18, 2008
10:20 am

Stephen Lattanzi, a Bates College senior from Winchester, Mass., is one of two winners of a regional competition in the Kennedy Center American College Theater Festival, held Jan. 29- Feb. 3 at Fitchburg State College in Fitchburg, Mass.

January 29, 2008
3:39 pm

Paul D. Miller, the musician, essayist and media artist also known as DJ Spooky, presents a live performance of his internationally renowned multimedia project "Rebirth of a Nation" at 8 p.m. Saturday, Feb. 2, at Lewiston Middle School, 75 Central Ave.

January 29, 2008
1:26 pm

Bates College Concert Series will welcome acclaimed opera singers Kelly Kaduce, soprano, and Lee Gregory, baritone, performing at 8 p.m. Saturday, Feb. 9, in the Olin Arts Center Concert Hall, 75 Russell St. Their Bates program includes works by Granados, Debussy and Grieg, as well as operatic arias and duets.

October 30, 2007
10:46 am

A dark romantic comedy about the nature of time and the human condition, Gillette Elvgren's play "Five Cups of Coffee" will be performed at Bates College at 7:30 p.m. Thursday through Saturday, Nov. 1-3, and 2 p.m. Saturday and Sunday, Nov. 3 and 4. Performances take place in Schaeffer Theatre, 305 College St.