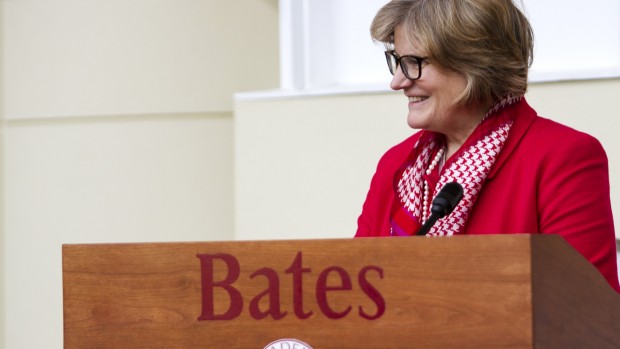 "We have ambitious goals for Bates, and I am inspired by this outpouring of support from the college community," said President Clayton Spencer.
Published on
Description

---

March 4, 2014
2:09 pm

Do the people you touch make you the person you are? If you are breathing, can your oppressors claim that you do not exist? Questions like these drive Therí Pickens' new book.

January 21, 2014
2:57 pm

Gary Younge painted a picture of events behind the 1963 March on Washington and King's speech that, paradoxically, made it all seem both inevitable and fortuitous.

January 6, 2014
2:06 pm

Bates will live-stream the keynote address and the annual Benjamin Elijah Mays Debate with Morehouse College.

April 26, 2013
4:18 pm

Chester Higgins Jr., a photographer for the New York Times whose images have appeared in exhibitions all over the world, visits Bates to give a talk titled Dancing with My Spirit on May 1.

March 22, 2013
11:30 am

Bates presents award-winning Benjamin Mays biographer Randal Maurice Jelks on March 25.

December 19, 2012
9:51 am

Spotlighting a less-known aspect of the Rev. Dr. Martin Luther King Jr.'s work, King Day at Bates will explore issues of economic justice.

October 4, 2012
12:27 pm

The Office of Intercultural Education offers four autumn presentations exploring topics relating to the LGBT, African American and Latino/a experiences.

June 18, 2012
11:10 pm

The faculty members are "outstanding scholars and teachers who have made many contributions to knowledge in their fields."

March 14, 2012
3:30 pm

Plastas book explores prejudice, progress in women's activism between world wars

February 9, 2012
8:37 am

An expert on public policy and racial inequality, Thomas Shapiro speaks on the racial wealth gap on Feb. 11.