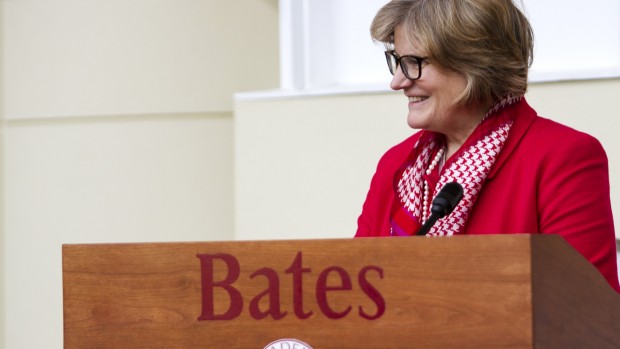 "We have ambitious goals for Bates, and I am inspired by this outpouring of support from the college community," said President Clayton Spencer.
Published on
Description

---

June 6, 2011
2:14 pm

Like sands through the hourglass, so are the final days of the renovation of Hedge and Roger Williams halls. On Monday, June 27, faculty in philosophy, religious studies and environmental studies will receive key-card access to the renovated Hedge Hall and be able to start settling into their spiffy new offices. Four weeks later, July 25 is moving day for staff of the Language Resource Center and Off-Campus Study office and the faculty of the foreign-language programs that will occupy Roger Williams Hall.

May 31, 2011
3:37 pm

Each Commencement season, we offer brief videos of Bates seniors reflecting on their Bates experience. Here, Margaret Cadden '11 of…

May 18, 2011
8:56 am

Dick Gregory, the African American comedian who transcended show-business success to become a prominent activist for social justice and civil rights, performs at Bates College at 7 p.m. Monday, May 23, in the Olin Arts Center Concert Hall, 75 Russell Street. Sponsored by the Bates Program in African American Studies and the Multifaith Chaplaincy, the event is open to the public at no cost, but reservations are required. Please contact 207-786-8272.

April 14, 2011
11:17 pm

Students in Associate Professor of Classics and Medieval Studies Margaret Imber's course "The Roman Civilization: The Republic" (CMHI 108) explored…

March 29, 2011
1:48 pm

Bates College President Elaine Tuttle Hansen announced to the Bates community today that Associate Dean of the Faculty Pamela J. Baker, the College's Helen A. Papaioanou Professor of Biological Sciences, has accepted a two-year appointment as the institution's vice president for academic affairs and dean of the faculty, effective July 1.

March 28, 2011
2:41 pm

Praised by students for her creativity and clarity in conveying the complex technical and moral aspects of neuroscience, Assistant Professor of Psychology Nancy Koven is one of this year's two recipients of the Bates College award for superior teaching.

March 28, 2011
2:24 pm

Sonja Pieck, assistant professor of environmental studies at Bates, and Nancy Koven, assistant professor of psychology, are this year's recipients of the Bates award for superior teaching. They are co-winners of the Ruth M. and Robert H. Kroepsch Award for Excellence in Teaching.

March 7, 2011
3:34 pm

Vladimir Munkhanov, a teacher, historian and lawyer from Siberia, visits Bates College to present the lecture Buryat Traditions and the Modern World: Siberian Lives in Post-Soviet Russia at 7 p.m. Wednesday, March 16, in Room 204, Carnegie Science Hall, 44 Campus Ave.

March 4, 2011
1:01 pm

An analyst from the National Security Archive and scholars from Duke and New York universities take part in the Bates College symposium "Latin American Revolutions" in afternoon and evening sessions on Wednesday and Thursday, March 9 and 10.

February 3, 2011
3:03 pm

In observance of Black History Month and the 50th anniversary of the 1961 Freedom Riders protest, a historian from Ohio's Miami University reviews the history, impacts and continuing relevance of this galvanizing episode in the civil rights movement at 4:30 p.m. Thursday, Feb. 17, in the Benjamin Mays Center at Bates College, 95 Russell St. Sponsored by the Office of Intercultural Education at Bates, Nishani Frazier's talk, titled On the March, is open to the public at no cost. For more information, please call 207-786-8376.