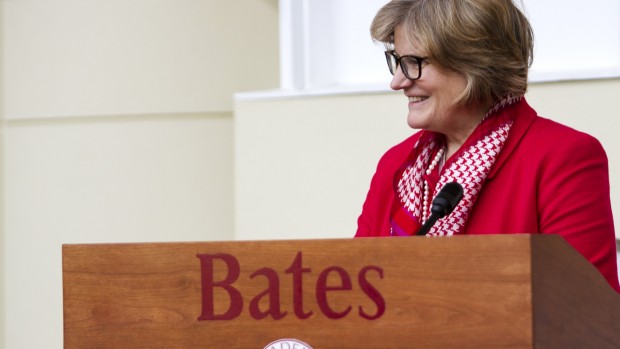 "We have ambitious goals for Bates, and I am inspired by this outpouring of support from the college community," said President Clayton Spencer.
Published on
Description

---

March 1, 2009
1:19 pm

The latest campus comings and goings

March 1, 2009
11:23 am

Two Bates professors muse about 'Mao Jacket': Grafflin – It's easier to perceive ambiguity in art that comes out of one's own cultural background; Hirai – On what side of fame does Bates stand?

February 27, 2009
3:09 pm

Fifty Bates College students are among an estimated 10,000 young people from around the United States who will gather in the nation's capital on Feb. 27 for a four-day summit supporting immediate action on climate, energy and economic issues.

February 26, 2009
12:44 pm

Auburn mayor John Jenkins '74 was the subject of a story by longtime Portland Press Herald columnist Bill Nemitz, who wrote, "Forty years ago last spring, John Jenkins stood on the stage at his high school in Newark, N.J., and proudly shook the hand of the Rev. Martin Luther King Jr.

February 4, 2009
2:09 pm

During her keynote address during Bates' Martin Luther King Jr. Day observance, scholar Melissa Harris-Lacewell asked her audience the key question: Now that Obama is president, who in our society is going to play the role of Martin Luther King?

February 4, 2009
1:59 pm

The 2009 Martin Luther King Jr. Day observance at Bates College focused on "Inaugurating Change: Where Do We Go From Here?" Each year, Bates observes King's birthday by suspending regular classes and focusing community attention on special programming throughout the day.

January 19, 2009
2:46 pm

A Bates College junior and a recent graduate have been honored for their achievements in neuroscience research at the college.

January 7, 2009
12:40 pm

The College's 2008–09 initiative Bates Contemplates Food got cover treatment in the recent Bates Magazine with "The Maine Course," a…

January 6, 2009
12:00 pm

Melissa Harris-Lacewell, associate professor of politics and African American studies at Princeton, is the keynote speaker for the 2009 Martin Luther King Jr. Day observances at Bates College.

January 6, 2009
11:03 am

"You need to look at the whole food system" instead of the input-output view that typifies much of U.S. agriculture, says Alan Hunt '03, an agricultural policy analyst at the Northeast Midwest Institute.