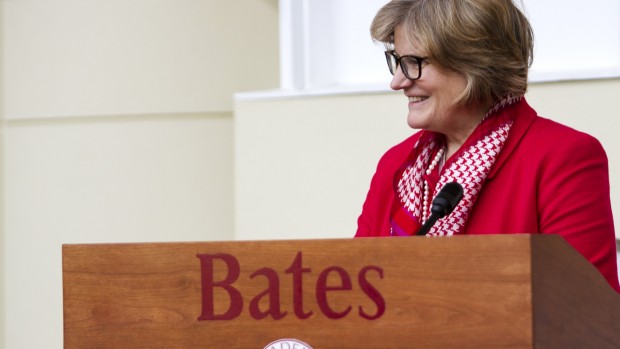 "We have ambitious goals for Bates, and I am inspired by this outpouring of support from the college community," said President Clayton Spencer.
Published on
Description

---

January 29, 2008
3:39 pm

Paul D. Miller, the musician, essayist and media artist also known as DJ Spooky, presents a live performance of his internationally renowned multimedia project "Rebirth of a Nation" at 8 p.m. Saturday, Feb. 2, at Lewiston Middle School, 75 Central Ave.

January 29, 2008
3:20 pm

The Bates Energy Action Movement and the Sierra Student Coalition, the student chapter of the Sierra Club, co-sponsor the Maine State Climate Summit at Bates College from Friday, Feb. 8, through Sunday, Feb. 10. Students attending high schools, colleges and universities in Maine are invited to take advantage of this opportunity to discuss and act on issues and ideas, ranging from wind power to eco-art, that pertain to climate change.

January 24, 2008
2:05 pm

The Bates College Office of Multicultural Affairs presents a lecture and panel discussion titled "Does Your Identity Fit Your Genes?" at 7 p.m. Monday, Feb. 4, in the Edmund S. Muskie Archive.

January 16, 2008
12:00 pm

A panel discussion presented by the Harward Center for Community Partnerships.

November 6, 2007
10:04 am

Eighty-nine percent of Bates College students who worked with the college's Medical Studies Committee in applying to health care-related graduate programs for fall 2007 matriculation were accepted.

October 23, 2007
11:19 am

Professor Lee Rybeck Lynd '79, a pioneer in the sustainable production of ethanol fuels from abundant, inexpensive and renewable plant materials, gives two public presentations at Bates College in October.

October 21, 2007
11:33 am

As the culmination of a three-day Tolkien Film Festival at Bates College from Monday, Oct. 22, through Wednesday, Oct. 24, leading Tolkien scholar Thomas Shippey delivers a lecture titled "Filming the Lord of the Rings: How Peter Jackson Coped with J.R.R. Tolkien," at 7 p.m. Thursday, Oct. 25, in the Olin Arts Center, 75 Russell St.

October 10, 2007
1:50 pm

Five students who conducted international research with the support of Phillips Fellowships from Bates present their research in October.

May 21, 2007
4:32 pm

With its centerpiece a giant painting that depicts Brooklyn after millennia of global warming, an exhibition exploring the concept of environmental sustainability opens on June 9 at the Bates College Museum of Art, 75 Russell St.

May 21, 2007
12:39 pm

Akiko Doi, a Bates College senior from Kyoto City, Japan, recently won the Undergraduate Student Research Achievement Award Poster Competition in the enzymology category.