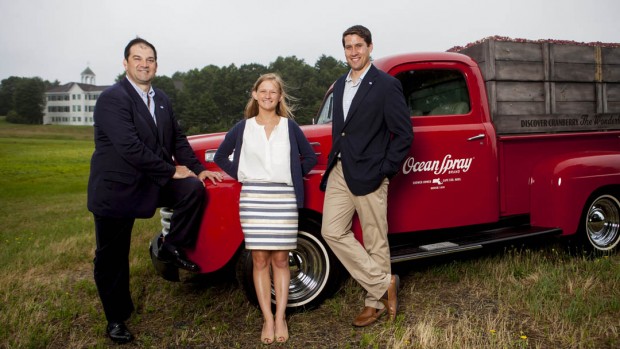 From Seattle, Wash., to New York City's Times Square, Bates students are participating in myriad off-campus experiences. The home front, of course, continues to percolate with scientific research, modern dance and extensive demolition…
Published on
Description

---

June 2, 2005
9:17 am

Neuroscience major Whitney Sheen '05 of Flagstaff, Ariz., and psychology major Keith Hengen '06 of Concord, N.H., were among just seven undergrads to receive grants defraying travel costs for the 11th annual Wisconsin Symposium on Emotion, held in April by the HealthEmotions Research Institute at UW-Madison.

April 20, 2005
12:25 pm

A double major in chemistry and environmental studies, Erin Bertrand '05 has learned the art of seeing both the trees and the forest.

March 3, 2005
9:16 am

Faculty members in the fields of art, psychology and the study of American and African American culture were awarded tenure at Bates College this year. The three tenure recipients are assistant professor Pamela Johnson of the Department of Art and Visual Culture; associate professor John McClendon of the programs in African American studies and American cultural studies; and assistant professor Michael Sargent of the Department of Psychology.

January 19, 2005
11:13 am

Bates College faculty members William Ambrose, of Poland, and Rebecca Herzig, of Lewiston, have been named this year's recipients of the college's Ruth M. and Robert H. Kroepsch Award for Excellence in Teaching.

January 18, 2005
10:29 am

Three members of the Bates College faculty have been awarded institutional Phillips Fellowships to support a full year's leave at full pay for the pursuit of significant scholarship, new research or the development of new courses or pedagogical approaches.

November 3, 2004
1:32 pm

The Bates College Museum of Art presents a symposium on Marsden Hartley, a Lewiston native and a pioneer in modern American art, on Friday and Saturday, Nov. 5-6.

October 7, 2004
1:58 pm

The Bates College Museum of Art installation "From Middle Kingdom to Biological Millennium," by Chinese artist Wenda Gu, closes with a reception and a performance piece by Gu at 7:30 p.m. Saturday, Oct. 9, in the Olin Arts Center, 75 Russell St. The event takes place during Parents and Family Weekend at Bates.

October 6, 2004
1:47 pm

Amandla!, a Bates College organization addressing issues of people of black heritage, has launched a fund-raising drive to assist citizens of the Caribbean islands devastated by recent hurricanes and Sudanese refugees. All proceeds will go directly to the International Red Cross Emergency Relief Fund and Doctors Without Borders. For further information, e-mail Melisa March at mmarch@bates.edu or call 207-795-5118.

October 6, 2004
1:40 pm

Safa Abu-Rabia and Hannah Safran, two feminist peace activists working in Israel, offer a pair of lectures Monday, Oct. 11, in Chase Hall, Campus Avenue, Bates College. Titled "Israeli-Palestinian Peacework: Two Women's Story," the afternoon lecture at 4:30 p.m. in Skelton Lounge is part of "Spiritual Journeys: Stories of the Soul 2004-05."

September 28, 2004
1:35 pm

The Bates College Program in Environmental Studies will show "Affluenza," the acclaimed 1997 documentary about the impact of rampant materialism in America, at 7:30 p.m. Tuesday, Oct. 5, in Room 104, Olin Arts Center, 75 Russell St.