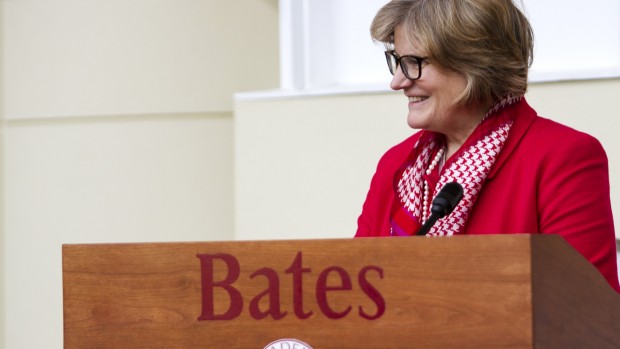 "We have ambitious goals for Bates, and I am inspired by this outpouring of support from the college community," said President Clayton Spencer.
Published on
Description

---

October 23, 2003
2:58 pm

John P. Keenan, an Episcopal priest and scholar of Buddhism, discusses his own intellectual and spiritual experiences of living within these two religious traditions at 4:30 p.m. Friday, Oct. 31, in Skelton Lounge, Chase Hall, Campus Avenue, Bates College. The public is invited free of charge to attend this presentation, part of the series "Spiritual Journeys: Stories of the Soul 2003-04," sponsored by the Office of the Chaplain. Call 207-786-8272 for more information.

October 23, 2003
2:44 pm

Toni McNaron, professor emeritus of English and women's studies at the University of Minnesota, discusses her book Poisoned Ivy: Lesbian and Gay Academics Confronting Homophobia(Temple University Press, 1996), at 7 p.m. Wednesday, Oct. 29, in the Edmund S. Muskie Archives, Campus Avenue, Bates College. The public is invited to attend free of charge.

October 21, 2003
8:11 am

Troy Duster, professor of sociology at New York University, will give a talk titled "Colorblindness and the Veil of Privilege: From Redress to Diversity and Back" at 12:30 p.m. Wednesday, Oct. 29, in the Edmund S. Muskie Archives, Campus Avenue, Bates College. Sponsored by the Office of Affirmative Action and Institutional Diversity, the talk is open to the public free of charge.

October 17, 2003
8:29 am

Focusing on the impacts of urbanization and industrialization in China, an exhibition of documentary images by seven Chinese photographers opens at the Bates College Museum of Art on Jan. 9, 2004.

October 15, 2003
9:22 am

An accomplished musician equally at home with blues, zydeco and a spectrum of African and Caribbean styles, Bruce "Sunpie" Barnes comes to Bates College to explore the music of the African Diaspora in a lecture-workshop at 7:30 p.m. Tuesday, Oct. 28, in Room 104 of the Olin Arts Center, 75 Russell St.

October 13, 2003
10:14 am

Ghosts from Japan and England will share the podium at 7:30 p.m. Monday, Oct. 27, in the Benjamin Mays Center, Bates College, when an associate professor of English literature at the University of Kyoto contrasts traditional Japanese ghosts with the spirits in Charles Dickens' A Christmas Carol.

September 23, 2003
9:23 am

In a symposium Friday and Saturday, Oct. 10-11, faculty and guests from as far away as Germany will use music, drama and scholarly presentations to mark the 100th anniversary of a milestone in African American thought.

August 22, 2003
10:57 am

An environmental studies major at Bates with a concentration in environmental geology, senior Rachel Booty is researching soil contamination by heavy metals — primarily lead — for her thesis. In particular, she's investigating the impact such contamination makes on urban living. Her research has involved testing plant and soil samples from the downtown gardens run by Lots to Gardens, the community garden program that Booty works for, and comparing them to control materials taken from test gardens on campus.

March 27, 2003
10:26 am

A cavalcade of academic stars is ready to dazzle the College community and campus visitors at the second annual Mount David Summit, noon-8 p.m. Sunday, March 30.?? More than 100 students, working in 22 disciplines with 40 professors and assistants in instruction, will present poster displays, panel talks, artistic and musical performances and multimedia offerings at Pettengill Hall and other campus locations.

February 6, 2003
4:14 pm

Fourteen members of the Bates College faculty have been awarded funding for student research assistantships this summer.