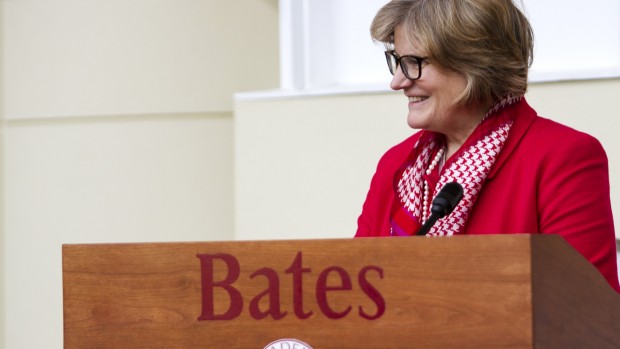 "We have ambitious goals for Bates, and I am inspired by this outpouring of support from the college community," said President Clayton Spencer.
Published on
Description

---

January 27, 2003
3:04 pm

Through Jan. 31, the student organization Sangai Asia celebrates the Lunar New Year with Bates Asian Week, a festival including a concert by singer Magdalen Hsu-Li, a lecture on democracy in China and a neighborhood fireworks display, all open to the public at no charge.

January 22, 2003
2:17 pm

Sumarsam, a Wesleyan University professor who had his first experience with Indonesian performing arts as a boy in his East Javanese village, devotes two evenings to Indonesian shadow puppetry this week.

January 8, 2003
3:07 pm

Award-winning filmmaker Joanne Grant, a writer and veteran civil rights activist of the Student Nonviolent Coordinating Committee, is the keynote speaker for the Martin Luther King Jr. Day observances.

December 12, 2002
2:56 pm

"Science, Power, and Difference," a new lecture series at Bates College, will present innovative research into the social, cultural and political dimensions of the natural sciences.

November 26, 2002
4:05 pm

The students, participants in the "World Agriculture" course taught by Peter Rogers, will present their findings from research into the operations of Nezinscott Farm, Turner; Avalon Farm, North Yarmouth; and Bell Farms, Auburn

September 26, 2002
8:32 am

Two specialists in interpreting the natural landscape will discuss their impressions of lands protected by the Androscoggin Land Trust in 7 p.m. presentations on Saturday, Oct. 12, and Sunday, Oct. 13, at Bates College. The Saturday talk is in Chase Hall Lounge, Chase Hall, Campus Avenue, and Sunday's event is in the Keck Classroom (G52), Pettengill Hall, Andrews Road. The talks by plant ecologists Tom Wessels and Mitchell Thomashow, both of Antioch New England Graduate School, are open to the public at no charge.

September 3, 2002
8:15 am

Exhibiting at the Bates College Museum of Art through Oct. 16 are Will Richard, a nature photographer from Georgetown, Maine, and Grace Knowlton, a nationally known artist whose works at Bates are inspired by earthen mounds. The Knowlton exhibit in the museum's upper gallery, titled "Dirt Piles," opens at 7 p.m. Friday, Sept. 6, with an artist's lecture and opening reception. The museum welcomes the public at no charge.

August 21, 2002
4:25 pm

Bates College has added some new resources to its international scholarships and Asian studies programs, thanks to a $50,000 grant from the Tanaka Memorial Foundation of Japan.

May 13, 2002
2:21 pm

Two environmental studies majors at Bates College have received Philip J. Otis Fellowships to support research projects that will promote greater understanding of environmental issues and the connection between the environment and spirituality.

May 8, 2002
9:47 am

African-Ecuadorian writer and environmentalist Juan Monaño will give a talk titled "Intercultural Adventure: Black Ecuadorians Have a Point of View" at 7:15 p.m. Wednesday, May 15, in Room G52 of Pettengill Hall. The public is invited to attend free of charge.