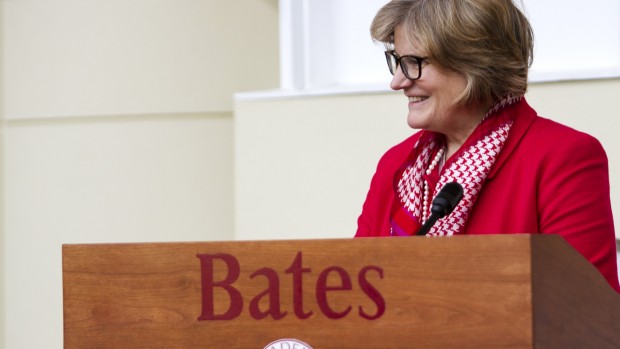 "We have ambitious goals for Bates, and I am inspired by this outpouring of support from the college community," said President Clayton Spencer.
Published on
Description

---

March 20, 2002
9:09 am

Featuring a music master from Java and an American expert in gamelan music, the Bates College Javanese Gamelan Ensemble performs traditional Indonesian music at 4 p.m. Friday, April 5, in the Perry Atrium of Pettengill Hall. The concert is free and open to the public. For more information about the performance, please call 207-786-6135.

March 12, 2002
9:13 am

A historian from Colby College and two members of a farm labor coalition formed in response to harsh conditions at the former DeCoster Egg Farm offer lectures on environmental issues at Bates College on Wednesday, March 20, and Thursday, March 21. The lectures are free and open to the public.

March 1, 2002
2:49 pm

Bates College has won a $400,000 grant from the Freeman Foundation to expand and enrich its Asian studies program, announced Jill N. Reich, dean of the faculty and vice president for academic affairs. The four-year grant will fund faculty research, the creation of new courses, travel for faculty and students, and the acquisition of library and technology resources.

February 11, 2002
9:34 am

Novelist Carolyn Chute and the owners of an organic Maine farm are among the specialists working with students in two innovative programs that are engaging the campus with the world outside.

January 7, 2002
4:05 pm

Timothy Leach, a 1999 graduate of Bates College, discusses his fact-finding tour of the Arctic National Wildlife Refuge (ANWR) in a lecture at 7:30 p.m. Monday, Jan. 14, in the college's Chase Lounge, on Campus Avenue. The presentation is open to the public at no charge.

December 17, 2001
3:36 pm

Its environmental policies and practices make Bates College a leader among American universities and colleges in a survey that the National Wildlife Federation (NWF) released in October.

November 15, 2001
9:43 am

Boston filmmakers DeMane Davis and Khari Streeter will screen the Maine premiere of "Lift," their dramatic film about shoplifting Monday, Nov. 26, in the Keck Room, Pettengill Hall, at Bates College.

May 5, 2001
9:47 am

Bates College students Megan Gadsby of St. Michaels, Md.; Elizabeth Kreischer of Arlington Mass.; John Minor of Wilmington, N.C.; and Christopher Westcott of Princeton, N.J., have been named 2001 Phillip J. Otis Fellows.

March 29, 2001
11:49 am

Professor of comparative literature to discuss women and sovereignty in 19th-century China Monday, April 1 in Pettengill Hall at Bates College.

March 23, 2001
2:41 pm

Kurt Eilhardt, a senior classical and medieval studies major at Bates College, was recently awarded a Fulbright scholarship to study medieval Nordic culture and the introduction of Christianity to Norway at the University of Oslo in 2002.