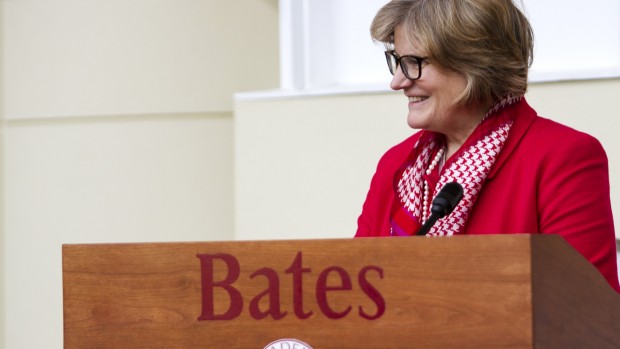 "We have ambitious goals for Bates, and I am inspired by this outpouring of support from the college community," said President Clayton Spencer.
Published on
Description

---

February 26, 2001
2:11 pm

Peggy McIntosh, associate director of the Wellesley College Center for Research on Women, will discuss White People Learning About People of Color: Learning About Themselves Tuesday, March 6, at Schaeffer Theatre, 305 College St.

February 12, 2001
1:36 pm

Jessica Lord '98, a graduate student in the clinical psychology program at the University of Connecticut, will lecture on the biological correlates of autism on Thursday, Feb. 15, in Room 113 of Carnegie Science Hall, 44 Campus Ave.

November 9, 2000
2:01 pm

Associate Professor of Biology and Biological Chemistry Pamela Baker's recent studies of periodontal disease add up to more than another warning about how important it is to brush one's teeth.

November 3, 2000
1:42 pm

William Shutkin, one of the nation's leading environmental lawyers and social entrepreneurs, will discuss "Avoiding a Planet of Weeds: Environmentalism and Development in the 21st Century." at 7:30 p.m. Wednesday, Nov. 8 in the Edmund S. Muskie Archives at Bates College.

September 15, 2000
3:20 pm

Steven F. Maier, professor of psychology, University of Colorado, Boulder, will discuss "Bi-directional Communication Between the Brain and the Immune-System: Implications for Understanding Stress and Depression" at Bates College at 4 p.m. Thursday, Sept. 21, in the Keck Classroom, Pettengill Hall. The public is invited to attend the Robin L. Bitner '95 Neuroscience Lecture free of charge.

March 25, 2000
12:53 pm

The Department of German, Russian And East Asian Languages and Literatures, in conjunction with the Asian studies program at Bates College, presents "Kyogen: Comedy of Medieval Japan" to be performed by the International Classical Theater from Lawrence, Kansas, at 4:30 p.m. Saturday, April 1, in the Alumni Gymnasium at Bates College. The public is invited to attend free of charge.

February 17, 2000
2:32 pm

Portia Maultsby, professor of ethnomusicology and director of the Archives of African American Music and Culture at Indiana University, will discuss "African American Music in Dutch Culture: Issues of Identity and Representation" at 4:15 p.m. Thursday, March 2, in the Edmund S. Muskie Archives, 70 Campus Ave. The public is invited to attend the Muskie Millennial Series Lecture free of charge.

February 2, 2000
1:42 pm

Bates College celebrates Black History Month with a series of events sponsored by the Multicultural Center, the Office of the Chaplain, the Affirmative Action Office and the African American studies program.

January 26, 2000
4:00 pm

Robert Hill, the noted African diaspora scholar whose multidisciplinary work intersects with political science, history, sociology and psychology, will discuss "Afrogenesis, or The Genealogy of 'Africa for Africans'" at 8 p.m. Monday, Jan. 31, in the Edmund S. Muskie Archives and "Afrognosis, or Caliban's Books of Healing in the African World" at 8 p.m. Monday, Feb. 8, in Chase Hall Lounge.

October 21, 1999
12:00 am

Seventeen Bates College student composers enrolled in "Computers, Music and the Arts," a course taught by William Matthews, the Alice Swanson Esty Professor of Music, will give a concert of new work using digital recording, sampling and synthesizers at 9 p.m. Monday, Nov. 1, in the Olin Arts Center Concert Hall on the Bates campus. The public is invited to attend free of charge. For additional information, call the Olin Arts Center at 207-786-6135.