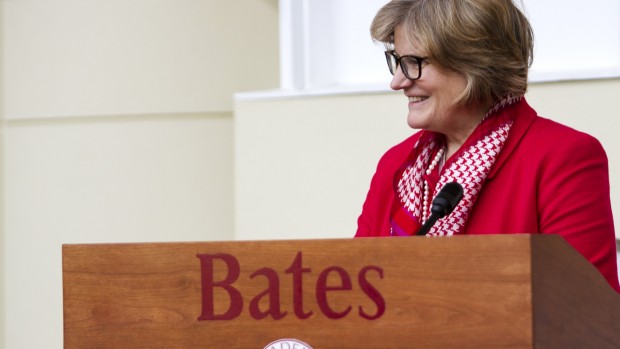 "We have ambitious goals for Bates, and I am inspired by this outpouring of support from the college community," said President Clayton Spencer.
Published on
Description

---

August 1, 2013
4:31 pm

Two rising seniors share insights into life in a summer research lab as they study neurological processes in snail brains.

July 25, 2013
2:12 pm

Welcome back to the Program in Women and Gender Studies. Two members of the program committee, Rebecca Herzig and Stephen…

July 25, 2013
1:52 pm

Starting this fall, BIO 328 Developmental Biology will be a regular offering for the Biological Chemistry major. Biological Chemistry majors…

July 23, 2013
3:00 pm

James Meyo '14 and Jenny Chen '16 are the first U.S. undergraduates to employ an innovative research technique currently used in only three labs in the world.

July 17, 2013
2:47 pm

Bates is known for nurturing student initiative. If you can make a case for your idea, the college will do…

July 10, 2013
1:36 pm

Research by David George, lecturer in Spanish, figured prominently in Continental news reports about a seminar in Spain dedicated to…

July 8, 2013
10:15 am

Bates' 2013 Clean Sweep sale raised nearly $17,000 for local nonprofits.

May 7, 2013
12:59 pm

Silvia Dominguez, a scholar who researches the welfare of women, children and minority populations, offers the talk "Getting Ahead: Social Mobility, Public Housing and Immigrant Networks" on May 9.

May 2, 2013
12:00 pm

In her thesis, Taryn O'Connell '13 examines strategies used to reach different social classes in Lewiston during a landmark pollution debate.

April 26, 2013
4:18 pm

Chester Higgins Jr., a photographer for the New York Times whose images have appeared in exhibitions all over the world, visits Bates to give a talk titled Dancing with My Spirit on May 1.