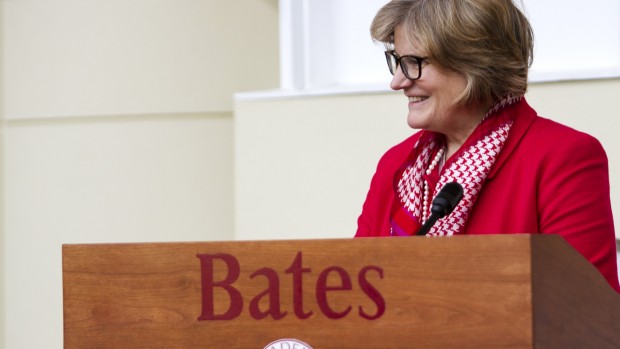 "We have ambitious goals for Bates, and I am inspired by this outpouring of support from the college community," said President Clayton Spencer.
Published on
Description

---

April 10, 2013
12:14 pm

Bates marine biologist Will Ambrose says that coastal worm diggers don't do significant harm to clams.

April 8, 2013
1:57 pm

A 2013 Watson Fellowship will make it possible for a Bates alumna to spend a year in Africa and Asia researching cultural perceptions of one of humankind's leading causes of death and disability.

April 4, 2013
12:00 pm

Greek and Latin students perform Plautus' comedy Captivi and show a video of Euripedes' tragedy Bacchae.

April 2, 2013
4:39 pm

Three senior thesis projects presented during the Mount David Summit illustrated intriguing examples of the state role in Chinese culture.

April 1, 2013
6:01 pm

Students in the junior-senior English seminar "Medieval London" assumed the identities of medieval Londoners at Mount David Summit. The Plague made a cameo appearance, too.

March 28, 2013
8:40 am

What is nature, who gets to decide its fate and why? And how can those who are excluded from environmental governance get some say?

March 22, 2013
11:30 am

Bates presents award-winning Benjamin Mays biographer Randal Maurice Jelks on March 25.

March 19, 2013
7:55 am

The panel discussion "Women in Public Leadership" scheduled for Tuesday, March 19, has been postponed because of weather and will take place on March 26.

March 4, 2013
12:04 pm

An expert in Spanish theater from Bard College opens a lecture series exploring cultural encounters between Europe and the Islamic world on March 4.

February 5, 2013
4:19 pm

Please watch bates.edu/events for information about a new date for DeGruy.