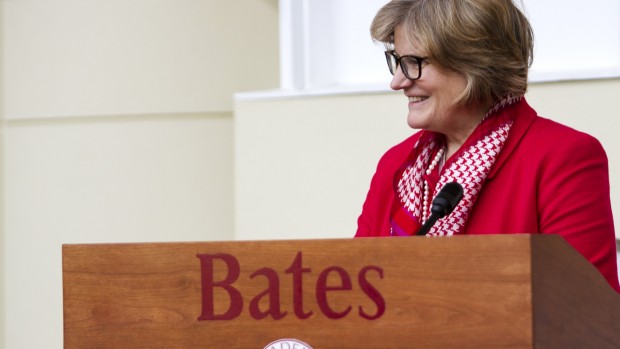 "We have ambitious goals for Bates, and I am inspired by this outpouring of support from the college community," said President Clayton Spencer.
Published on
Description

---

February 5, 2013
12:00 pm

Red Nails, Black Skates is a crash course in Erica Rand's areas of cultural criticism, through the lens of figure skating.

January 23, 2013
11:41 am

Kate Paladin '15 discovers what happens when a community becomes an epicenter of poverty and pollution.

December 19, 2012
9:51 am

Spotlighting a less-known aspect of the Rev. Dr. Martin Luther King Jr.'s work, King Day at Bates will explore issues of economic justice.

December 10, 2012
10:23 am

Alex Bolden '15 prepares Bates artists for the annual Sankofa performance on Martin Luther King Jr. Day 2013.

October 24, 2012
3:23 pm

Guest director Peter Richards helms the Bates production of "Big Love," a modern adaptation of an ancient Greek drama, in performances Nov. 1-5.

October 17, 2012
11:12 am

Jason Castro, assistant professor of psychology, discusses free will and the brain, among other things.

October 17, 2012
8:29 am

Six new tenure-track members of the faculty began teaching at Bates in autumn 2012, representing dance, economics, German, neuroscience and psychology, religious studies, and classical and medieval studies.

October 4, 2012
12:27 pm

The Office of Intercultural Education offers four autumn presentations exploring topics relating to the LGBT, African American and Latino/a experiences.

September 26, 2012
4:28 pm

Bates presents a panel discussion exploring the history and future of the Clean Water Act on Oct. 1.

September 26, 2012
1:24 pm

Photographer Chris Jordan, known for depicting the environmental devastation produced by the consumer society, gives the Otis Lecture on Oct. 9.