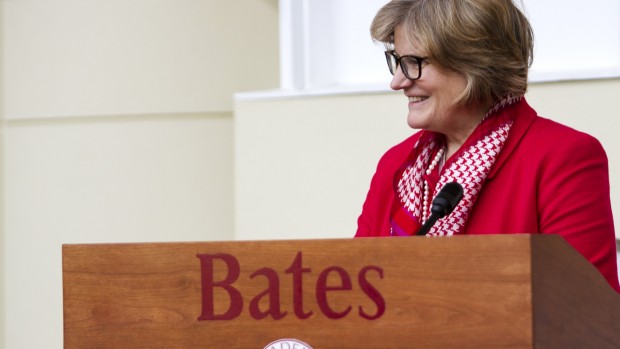 "We have ambitious goals for Bates, and I am inspired by this outpouring of support from the college community," said President Clayton Spencer.
Published on
Description

---

October 31, 2011
6:26 pm

The journey of Paul Marks '83 from Bates to China, and from being "a fairly unengaged student" to an international…

October 31, 2011
6:23 pm

It had to be said: Sometimes, "something gets found in translation, too." This truth was stated during the opening of…

October 31, 2011
6:03 pm

Bates' global reach has been a driving theme behind Open to the World: Bates Celebrates Unbounded Learning, a celebration of…

October 31, 2011
4:42 pm

Behind the closed doors of an honors defense, young scholars undergo a final metamorphosis.

October 7, 2011
1:41 pm

During the first "Translations" poetry festival at Bates College, in 2010, conference organizer Claudia Aburto Guzmán had an encounter that seemed to crystallize the event for her.

This innovative festival presented international poets reading their work in the original language, with English translations prepared by Bates faculty and students. Working with Somali poet Omar Ahmed, "it struck me that I was involved in the true practice of communication," says Aburto Guzmán, associate professor of Spanish.

October 7, 2011
10:56 am

George Mitchell, the former U.S. senator delivers the keynote address during a weeklong celebration of international and interdisciplinary education at Bates

October 7, 2011
9:18 am

When Professor of History Michael Jones learned of his recent election as a Fellow of the Society of Antiquaries of…

October 4, 2011
10:27 am

Nancy Koven, assistant professor of psychology, gives a talk titled Irreducible Stories of Mental Illness at 4:30 p.m. Thursday, Oct. 13, in Pettengill Hall's Keck Classroom ( G52), 4 Andrews Road (Alumni Walk).

September 29, 2011
12:19 pm

Professor of Economics Lynne Lewis' collaborative work on Maine river rehabilitation is featured in the Maine Public Broadcasting Network documentary…

September 1, 2011
9:22 am

Peter Marsters '09, who graduated from Bates with a degree in modern Chinese history, has worked as a program assistant for the China Environment Forum at the Woodrow Wilson International Center for Scholars.