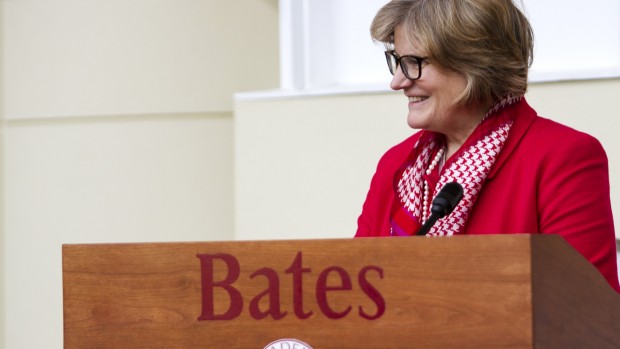 "We have ambitious goals for Bates, and I am inspired by this outpouring of support from the college community," said President Clayton Spencer.
Published on
Description

---

February 27, 2002
2:58 pm

In a concert appropriate for the Easter season, the College Choir performs the sections of Handel's oratorio Messiah dealing with Christ's crucifixion and resurrection at 8 p.m. Saturday, March 16, and 3 p.m. Sunday, March 17, in the Olin Arts Center Concert Hall.

February 25, 2002
8:12 am

A member of the Bates art faculty whose work has received prominent exhibitions in America and Europe, Robert Feintuch discusses his paintings at 7 p.m. Thursday, March 14, in Room 104, Olin Arts Center.

February 15, 2002
9:09 am

Live actors share the stage with puppets from a variety of puppetry traditions in the production of Marguerite Duras' novel The Sea Wall. Performances are at 8 p.m. Thursday through Saturday, March 7-9, and 2 p.m. Sunday, March 10, in Gannett Theater.

February 13, 2002
4:03 pm

New York-based poet, performance artist and activist Jayne Cortez will read from her work at 7 p.m. Wednesday, Feb. 27, in the Edmund S. Muskie Archives.

February 13, 2002
9:28 am

Kristin J. Smith, a chemistry major, is one of four undergraduate students nationwide to receive the American Chemical Society's I.M. Kolthoff Enrichment Award.

February 11, 2002
9:34 am

Novelist Carolyn Chute and the owners of an organic Maine farm are among the specialists working with students in two innovative programs that are engaging the campus with the world outside.

January 29, 2002
3:00 pm

Novelist Debra Spark reads from her second and latest work, "The Ghost of Bridgetown," at 8 p.m. Thursday, Feb. 7, in the Benjamin Mays Center, on Russell Street at Bates College. The reading is free and open to the public.

January 22, 2002
9:53 am

Poet Jaime "Shaggy" Flores, known for his work with the new generation of "Nuyorican Poets" (the term referring to a Puerto Rican living in New York or one who has lived in New York and returned to Puerto Rico), will give a poetry performance titled "Diaspora in My Art: Artistic Perspectives on Africa in the Americas" at 7 p.m. Wednesday, Jan. 30, in Room 104 of the Olin Arts Center at Bates College. The public is invited to attend free of charge.

January 14, 2002
3:39 pm

Matthew Cote, associate professor of chemistry; Atsuko Hirai, Kazushige Hirasawa Professor of History; and John Rhodes, associate professor of mathematics, have been awarded Phillips Faculty Fellowships for the 2002-03 academic year, announced Donald W. Harward, president of Bates College.

January 7, 2002
4:05 pm

Timothy Leach, a 1999 graduate of Bates College, discusses his fact-finding tour of the Arctic National Wildlife Refuge (ANWR) in a lecture at 7:30 p.m. Monday, Jan. 14, in the college's Chase Lounge, on Campus Avenue. The presentation is open to the public at no charge.