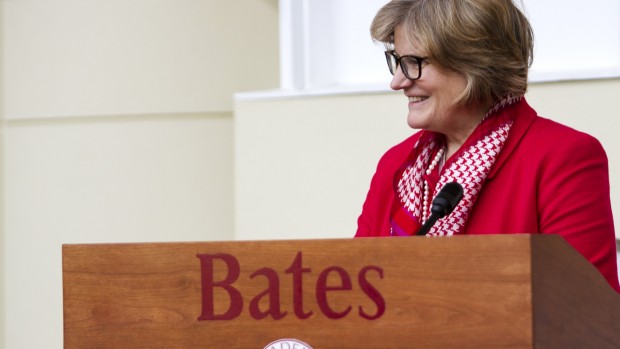 "We have ambitious goals for Bates, and I am inspired by this outpouring of support from the college community," said President Clayton Spencer.
Published on
Description

---

May 21, 2014
10:01 am

Alexandra Hill '14 is one of Bates' 10 Fulbright recipients for 2014.

May 21, 2014
9:31 am

John Stewart '14 is one of Bates' 10 Fulbright recipients for 2014.

May 1, 2014
11:58 am

Dumais' contributions have touched how we find, use and make sense of information from our computers and the Internet.

April 15, 2014
12:56 pm

A Davis Project for Peace award has gone to seniors Simone Schriger and Devin Tatro to support an initiative in Rwanda to support children of incarcerated people.

April 8, 2014
2:54 pm

Lisa Barry '77, a veteran of 35 years of international government relations work, has joined the Bates Board of Trustees.

April 3, 2014
2:04 pm

Simone Schriger and Brian Kennedy have won highly competitive Watson Fellowships, awarded to seniors of "unusual promise" for a year of international travel and research.

April 3, 2014
1:58 pm

Brian Kennedy, an economics major from Port Washington, N.Y., is one of two Bates College seniors to receive 2014 Watson Fellowships.

April 3, 2014
1:24 pm

Simone Schriger, a senior psychology major from Los Angeles, is one of two Bates seniors to be awarded a 2014 Watson Fellowship.

March 27, 2014
12:00 pm

Why not join a March Madness competition where you have a real rooting interest?

March 14, 2014
10:23 am

The ad "Dad and Papa" highlights the "contemporary boundaries and privileging of certain gay identities," Engel writes.