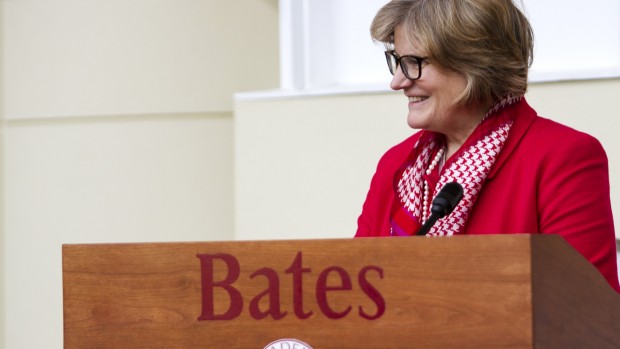 "We have ambitious goals for Bates, and I am inspired by this outpouring of support from the college community," said President Clayton Spencer.
Published on
Description

---

February 16, 2007
3:45 pm

Sulochana Dissanayake '09 balances academics and extracurriculars, taking full advantage of the Bates experience.

February 16, 2007
10:38 am

Felice Frankel, a leading expert in the use of imagery to express scientific data and concepts, offers a lecture titled "More Than Pretty Pictures: The Power of the Science Image" Friday, March 2, in the Keck Classroom (G52) in Pettengill Hall, Bates College, Andrews Road.

February 6, 2007
1:26 pm

In celebration of her appointment as Whitehouse Professor of Sociology at Bates College, Emily Kane leads a panel discussion on "Disrupting Privilege: Inequality, Community and Social Change" Wednesday, Feb. 7, in Chase Hall Lounge.

January 31, 2007
2:01 pm

Palestinian activists Mohammad Khatib and Feryal Abu Haikal speak about the nonviolent struggle of Palestinians Thursday, Feb. 1, in the Edmund S. Muskie Archives, 70 Campus Ave.

January 31, 2007
1:34 pm

Nominated by students and alumni who extolled his scholarship, his challenge to his students and his encouragement, Professor of Psychology John Kelsey has received the College's Ruth M. and Robert H. Kroepsch Award for Excellence in Teaching.

January 29, 2007
2:10 pm

Orlando Patterson, John Cowles Professor of Sociology, Harvard University, will give a talk titled "King's Dream, American Realities: Paradoxical Trends in the African-American Condition" Sunday, Feb. 4, in Chase Hall Lounge, 56 Campus Ave.

December 1, 2006
3:58 pm

Bates College has recently appointed two faculty members to four-year term professorships, President Elaine Tuttle Hansen announced.

September 13, 2006
12:00 am

Four recent Ph.D. recipients present a variety of research at a Bates symposium titled "Byzantine Studies: Back to the Future," to be held from 1:30 to 5:30 p.m. Saturday, Sept. 16, in the Keck Classroom (G52), Pettengill Hall, Andrews Road.

July 24, 2006
12:00 am

In June, four Bates students and assistant professor of psychology Roxanne Prichard traveled to Salt Lake City for the 20th anniversary SLEEP meeting, sponsored by the Associated Professional Sleep Societies.

June 14, 2006
12:00 am

Some, like the Tasmanian tiger, are considered extinct, yet sightings are still reported. Some, like the giant squid, existed only as rumors until hard evidence finally appeared. And roaming a shadowy habitat between myth, hucksterism and science are still others — for example, Bigfoot and the Loch Ness Monster.