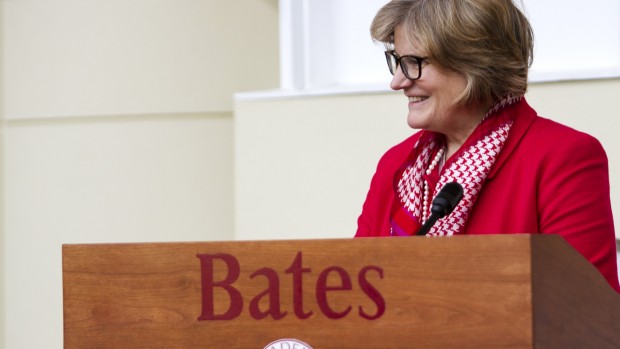 "We have ambitious goals for Bates, and I am inspired by this outpouring of support from the college community," said President Clayton Spencer.
Published on
Description

---

March 13, 2006
12:00 am

Scholar-activist William Santiago-Valles, associate professor of Africana studies at Western Michigan University, will give a talk titled "The Importance of Marronage as a Concept in Diaspora Studies" at 4 p.m. Friday, March 17, in Skelton Lounge, Chase Hall, 56 Campus Ave., Bates College. The public is invited to attend at no charge. For more information, please call the Multicultural Center at 207-786-8376.

March 7, 2006
12:00 am

Faith Smith, who teaches Caribbean literature and chairs the African and Afro-American studies department at Brandeis University, gives a lecture titled "Travel and/as Authentication in Caribbean Studies: How to Tell a True West Indian" at 7:30 p.m. Thursday, March 9, in the Edmund S. Muskie Archives, 70 Campus Ave., Bates College. The talk, sponsored by the college's African American studies program and the Office of the Dean of the Faculty, is open to the public free of charge. For more information, call 207-753-6933.

January 31, 2006
4:08 pm

Nominated by students and alums who describe his classroom as a "town meeting" where the moderator respects all viewpoints, faculty member William Corlett has received the College's Ruth M. and Robert H. Kroepsch Award for Excellence in Teaching.

November 14, 2005
3:21 pm

Local high school students and staff will join Steve Wessler, director of the Maine Center for the Prevention of Hate Violence, for a discussion of the "Unity Project," a multiyear harassment prevention program built around the use of peer influence, at 7 p.m., Monday, Nov. 14, in Chase Hall Lounge, Chase Hall, 56 Campus Ave., Bates College. The public is invited to attend the event, co-sponsored by the Harward Center for Community Partnerships and the education department at Bates, free of charge. For more information, please call 207-786-8235.

October 19, 2005
3:47 pm

Bates College has named James W. Hughes, a member of the economics faculty since 1992, as the Thomas Sowell Professor of Economics. Hughes presents his inaugural lecture as Sowell Professor at 5:15 p.m. Friday, Oct. 28, in Chase Hall Lounge, 56 Campus Ave.

June 2, 2005
9:17 am

Neuroscience major Whitney Sheen '05 of Flagstaff, Ariz., and psychology major Keith Hengen '06 of Concord, N.H., were among just seven undergrads to receive grants defraying travel costs for the 11th annual Wisconsin Symposium on Emotion, held in April by the HealthEmotions Research Institute at UW-Madison.

April 14, 2005
10:04 am

Short Term at Bates is known among students for pressure-cooker courses like "Cellular and Molecular Biology," aka "Cell Hell," and "Introduction to Abstraction," better known as "Math Camp." But the academic offerings during these five weeks of spring have a reputation not only for rigor but for topicality, adventurousness and even, dare we say, for fun. And Short Term units new in 2005 are no exceptions.

March 18, 2005
1:29 pm

A recent adviser to the United Nations and the World Trade Organization, and University Professor at Columbia University, Jagdish Bhagwati will give a lecture titled, "Globalization: Why It Has a Human Face," Thursday, March 31, in Chase Hall Lounge, 56 Campus Ave.

March 16, 2005
11:57 am

Weekly Standard editor William Kristol, one of the nation's most influential neoconservative commentators, visits Bates College to discuss the impact of Sept. 11 on American foreign policy Wednesday, March 23, in Chase Hall Lounge, 56 Campus Ave.

March 3, 2005
9:16 am

Faculty members in the fields of art, psychology and the study of American and African American culture were awarded tenure at Bates College this year. The three tenure recipients are assistant professor Pamela Johnson of the Department of Art and Visual Culture; associate professor John McClendon of the programs in African American studies and American cultural studies; and assistant professor Michael Sargent of the Department of Psychology.