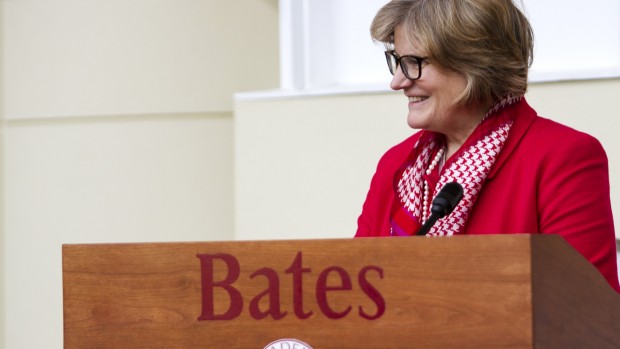 "We have ambitious goals for Bates, and I am inspired by this outpouring of support from the college community," said President Clayton Spencer.
Published on
Description

---

September 9, 2002
9:23 am

Iconoclastic journalist Christopher Hitchens, known for his trenchantly witty critiques of hypocrisy and entrenched political power, presents a lecture titled "Is Islam the Enemy?" at 4:10 p.m. Wednesday, Sept. 25 in Pettengill Hall. The public is invited to attend free of charge the talk, sponsored by the psychology department as part of a series of events connected to the observance of the one-year anniversary of Sept. 11.

September 9, 2002
8:09 am

Michael O'Hanlon, a senior fellow in the foreign policy studies program at the Brookings Institution, offers a review of the year's progress in the U.S. war against terrorism at 7:30 p.m. Thursday, Sept. 19, in the Edmund S. Muskie Archives at Bates College, 56 Campus Avenue. The public is welcome to attend the lecture free of charge.

June 18, 2002
9:01 am

The Bates College Department of Economics ranks number one in terms of total citations per capita and third overall among 50 top liberal arts colleges studied.

June 4, 2002
8:47 am

Bates College has announced the creation of a new professorship in honor of Thomas Sowell, the economist, writer and commentator called America's "most valuable public intellectual" for his challenge to orthodox thought across the spectrum of society.

April 24, 2002
4:16 pm

Robert J. Barro, the Robert C. Waggoner Professor of Economics at Harvard University, will deliver the Thomas Sowell Professorship of Economics inaugural lecture, titled Economics and Religion, at 4:30 p.m. Thursday, May 2, in the Keck Classroom of Pettengill Hall. A reception will follow in Pettengill's Perry Atrium, and the public is invited to attend the entire event free of charge.

April 22, 2002
4:25 pm

Bates College presents "Films of Muslim Life", a festival of award-winning films set in Iran and Senegal, at 7:30 p.m. Wednesdays from May 1 through May 22 in Room 104 of the Olin Arts Center, 75 Russell Street. A member of the Bates faculty or a Muslim student will host a discussion following each screening, and the public is invited to attend free of charge.

March 8, 2002
4:23 pm

The Bates Democrats help launch the campaign season with a debate among the six Democratic candidates for Maine's 2nd District congressional seat, at 7 p.m. Wednesday, March 27, in the Muskie Archives at Bates College, 70 Campus Avenue. The event is free and open to the public.

January 14, 2002
3:39 pm

Matthew Cote, associate professor of chemistry; Atsuko Hirai, Kazushige Hirasawa Professor of History; and John Rhodes, associate professor of mathematics, have been awarded Phillips Faculty Fellowships for the 2002-03 academic year, announced Donald W. Harward, president of Bates College.

December 4, 2001
3:46 pm

Under the direction of a Bates College junior and two Lewiston Middle School (LMS) teachers, a group of eighth graders will host a hands-on "Diversity Day" for 30 preschoolers Wednesday, Dec. 5, in the Lewiston Middle School Library.

November 5, 2001
2:56 pm

Five members of the Bates College science faculty took part last August in an institute sponsored by the Association of American Colleges and Universities (AAC&U). The outcome of the five-day summer institute was a new national initiative called Science Education for New Civic Engagements and Responsibilities (SENCER).