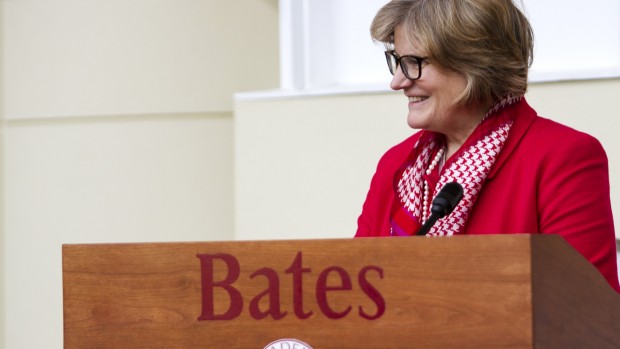 "We have ambitious goals for Bates, and I am inspired by this outpouring of support from the college community," said President Clayton Spencer.
Published on
Description

---

October 25, 2001
1:28 pm

The Bates College Department of Economics ranks second in the nation in the number of times its faculty's scholarly research is cited by other researchers.

September 25, 2001
8:39 am

Noted sociologist and writer Allan Johnson will discuss issues of social inequality and privilege in his lecture, "Privilege, Power, and Difference," Tuesday, Sept. 25, in the Bates College Edmund S. Muskie Archives.

April 29, 2001
2:51 pm

Bates College junior Jason Surdukowski of Concord, N.H., a double major in studio art and political science, has been named a 2001 Harry S. Truman Scholar, one of 70 students nationwide to receive a $30,000 scholarship awarded on the basis of leadership potential, intellectual ability and the likelihood of "making a difference."

April 25, 2001
3:55 pm

A group of Bates, Bowdoin and Colby college faculty and students, joined by a colleague from the University of the West Indies, will gather to participate in a day-long conference and roundtable, "Scientific Knowledge, Culture and Political Economy: The Caribbean and The Americas," Friday, May 4, in Chase Hall Lounge on Campus Avenue at Bates College.

February 28, 2001
2:18 pm

Patricia Devine, a social psychologist from the University of Wisconsin, will discuss The Emotional and Physiological Components of Prejudice Thursday, March 8, in Room G52 of Pettengill Hall, 4 Andrews Road.

February 21, 2001
2:03 pm

Margaret Maurer-Fazio, assistant professor of economics, and Francisca Lopez, associate professor of Spanish, have been awarded Phillips Faculty Fellowships, announced Donald W. Harward, president of Bates College.

November 17, 2000
2:02 pm

Bates College concludes its nine-part series "The Ecology and Politics of Maine Forests" with two final talks in November and December. Environmental planner Joshua Royte of the Nature Conservancy will discuss "St. John River: Conservation and Management" at 2:40 p.m. Tuesday, Nov. 28, in Edmund S. Muskie Archives at Bates College. Jennifer Melville of Trust for Public Land will discuss "Conservation Easements" at 2:40 p.m. Tuesday, Dec. 5, in Skelton Lounge, Chase Hall. The public is invited to attend these 80-minute talks free of charge.

November 1, 2000
1:17 pm

Comedian Elayne Boosler, one of the busiest comedians touring the country today, will perform at 7 p.m. Saturday, Nov. 4, in the Bates College Chapel in an appearance sponsored by the Bates College Democrats. The public is invited to attend free of charge.

September 15, 2000
3:20 pm

Steven F. Maier, professor of psychology, University of Colorado, Boulder, will discuss "Bi-directional Communication Between the Brain and the Immune-System: Implications for Understanding Stress and Depression" at Bates College at 4 p.m. Thursday, Sept. 21, in the Keck Classroom, Pettengill Hall. The public is invited to attend the Robin L. Bitner '95 Neuroscience Lecture free of charge.

July 10, 2000
3:44 pm

Brunswick resident Anne Wescott Dodd, chair of the Department of Education at Bates College, has received the 2000 Kroepsch Award for Excellence in Teaching. The two-part award includes a $1,000 prize and a $1,500 discretionary fund to support Dodd's teaching.