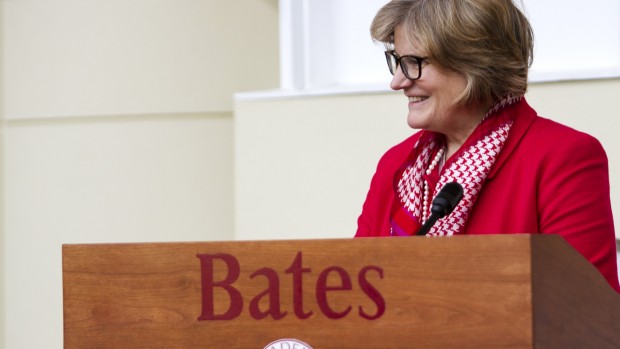 "We have ambitious goals for Bates, and I am inspired by this outpouring of support from the college community," said President Clayton Spencer.
Published on
Description

---

July 25, 2013
1:51 pm

Two new colleagues are joining the Anthropology department this year while Val Carnegie and Elizabeth Eames are away on sabbatical…

July 19, 2013
1:42 pm

Blues in the night is no fun. But blues in the evening can be a very good time indeed, as proven by musician Corey Harris '91.

July 17, 2013
2:47 pm

Bates is known for nurturing student initiative. If you can make a case for your idea, the college will do…

July 8, 2013
4:00 pm

This past Short Term, I took the course "Turkey: From Empire to State." For part of the course, we ventured forth to Turkey.

June 27, 2013
2:09 pm

Bass, a professor of history at the College of New Rochelle, supervises the network's Olympic Research Room.

June 21, 2013
12:46 pm

Bonner Leader Kim Sullivan '13 discusses her commitment to the City of Lewiston and the Tree Street Youth Center, an…

June 10, 2013
1:58 pm

If you want to know how the Bates education addresses student needs, developmental and intellectual, it's hard to imagine anyone better equipped than Jill Reich.

May 23, 2013
9:48 am

Ray is asked, "If you were a student, what project through the Harward Center makes you think, 'I'd be all over that'"?

May 22, 2013
3:32 pm

Under the headline "Negative Emotions are Key to Well-Being," Scientific American writer Tori Rodriguez cites research by Jonathan Adler '00…

May 7, 2013
12:59 pm

Silvia Dominguez, a scholar who researches the welfare of women, children and minority populations, offers the talk "Getting Ahead: Social Mobility, Public Housing and Immigrant Networks" on May 9.