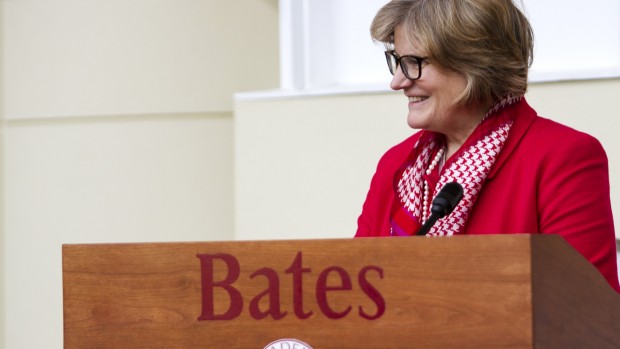 "We have ambitious goals for Bates, and I am inspired by this outpouring of support from the college community," said President Clayton Spencer.
Published on
Description

---

April 9, 2013
5:21 pm

Douglas Hodgkin offers insight into how voters treat lawmakers who vote against their gun views.

April 3, 2013
8:16 am

Devin Tatro got a study-abroad experience that let her combine her academic and extracurricular interests — and encourage children to pursue their goals.

April 2, 2013
4:39 pm

Three senior thesis projects presented during the Mount David Summit illustrated intriguing examples of the state role in Chinese culture.

March 22, 2013
11:30 am

Bates presents award-winning Benjamin Mays biographer Randal Maurice Jelks on March 25.

March 14, 2013
2:37 pm

For anthropologist Loring Danforth, helping students navigate their own cultural collisions is "important and interesting."

February 28, 2013
3:06 pm

A sociologist from the University of British Columbia discusses the future of longstanding 'gayborhoods' in a March 11 talk.

February 5, 2013
4:19 pm

Please watch bates.edu/events for information about a new date for DeGruy.

January 25, 2013
1:30 pm

The Saudi Gazette publishes "Bridging the Gap," a student-written account of the 2012 Short Term to Saudi Arabia.

January 17, 2013
12:00 pm

When it comes to weight loss, Langdon is more concerned with the "why?" and "how?"

January 14, 2013
1:14 pm

Victoria Lowe '12 discusses her Short Term dance experience and her goal of advancing arts education in the schools.