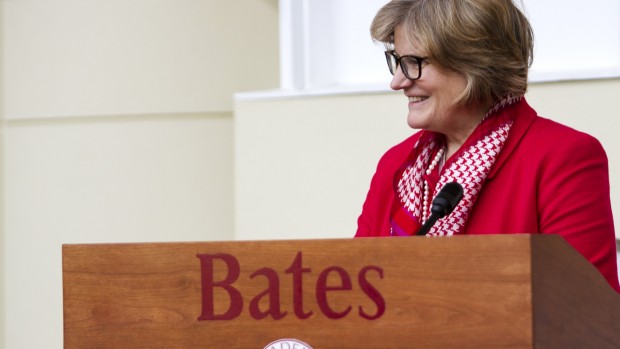 "We have ambitious goals for Bates, and I am inspired by this outpouring of support from the college community," said President Clayton Spencer.
Published on
Description

---

October 2, 2012
10:07 am

Laura Fortman, Maine's former commissioner of labor, gives the lecture "Frances Perkins: New Deal Legacy and Lessons for Today" on Oct. 10.

September 5, 2012
3:45 pm

What's political compromise got to do with a Bates education? As Convocation 2012 reveals, plenty.

September 5, 2012
8:39 am

Changes in party platforms over time can reflect the winners and losers among the party factions.

August 29, 2012
8:43 am

Todd Gitlin, the author of a new book about the Occupy movement that swept the nation in 2011, speaks about the movement on Sept. 11.

August 8, 2012
10:00 am

The archives supports the academic community by keeping one foot in the past and one in the present.

July 30, 2012
12:45 pm

The "113 Fund" will support summer internships in the Bates economics department.

July 26, 2012
1:41 pm

The reason firewalkers don't get burned lies in Loring Danforth's research.

June 18, 2012
11:10 pm

The faculty members are "outstanding scholars and teachers who have made many contributions to knowledge in their fields."

June 18, 2012
11:28 am

Caitrin Lynch '89 is an associate professor of anthropology at Olin College.

June 5, 2012
12:44 pm

Thanks to a two-year collaboration among the Portland branch of the NAACP, the University of Southern Maine and Bates, valuable papers of the Portland branch are being made accessible to researchers and the public for the first time.