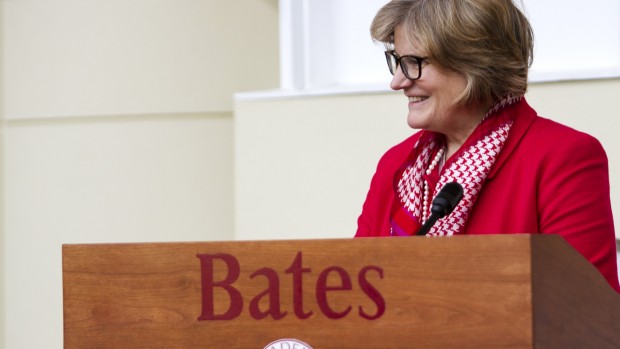 "We have ambitious goals for Bates, and I am inspired by this outpouring of support from the college community," said President Clayton Spencer.
Published on
Description

---

April 6, 2012
4:44 pm

Romina Istratii '12 will use the Watson Fellowship to research the dynamics of food security and gender bias in Africa.

March 22, 2012
10:13 am

Understanding how self-control works — and when and why it doesn't — is a hot topic in psychology.

March 21, 2012
4:48 pm

Bates College presents "Fambul Tok," a documentary depicting a journey of reconciliation in post-conflict Sierra Leone, on March 22.

March 20, 2012
4:41 pm

It isn't Mikey Pasek's style to grumble while waiting around for improvement. He makes change happen.

March 14, 2012
3:30 pm

Plastas book explores prejudice, progress in women's activism between world wars

March 12, 2012
11:08 am

The Portland Press Herald's Ray Routhier offers a Q&A interview with Eben Miller '96, whose book Born Along the Color…

February 9, 2012
8:37 am

An expert on public policy and racial inequality, Thomas Shapiro speaks on the racial wealth gap on Feb. 11.

February 3, 2012
4:43 pm

A book by Francesco Duina explores the role of rules and practices, informal and formal, in economic life.

January 13, 2012
4:04 pm

An op-ed in the newspaper Arab News praises Leena Nasser '12, the Bates student who helped to craft the new anthropology course scheduled to visit Saudi Arabia in May.

December 12, 2011
7:04 pm

At 6 a.m. Dec. 10, just hours after her last class of the semester, Tiarra Abell '12 will begin her journey back to Ecuador, where she spent her junior semester.