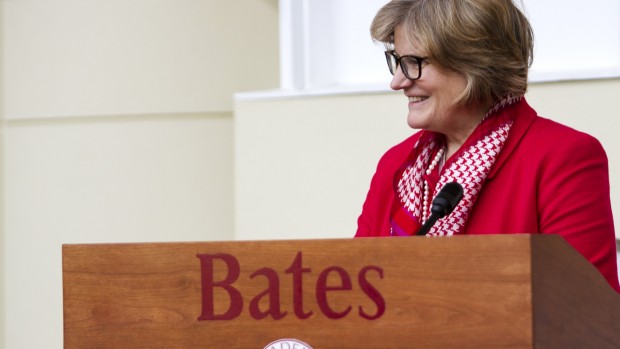 "We have ambitious goals for Bates, and I am inspired by this outpouring of support from the college community," said President Clayton Spencer.
Published on
Description

---

April 29, 2001
2:51 pm

Bates College junior Jason Surdukowski of Concord, N.H., a double major in studio art and political science, has been named a 2001 Harry S. Truman Scholar, one of 70 students nationwide to receive a $30,000 scholarship awarded on the basis of leadership potential, intellectual ability and the likelihood of "making a difference."

April 25, 2001
3:55 pm

A group of Bates, Bowdoin and Colby college faculty and students, joined by a colleague from the University of the West Indies, will gather to participate in a day-long conference and roundtable, "Scientific Knowledge, Culture and Political Economy: The Caribbean and The Americas," Friday, May 4, in Chase Hall Lounge on Campus Avenue at Bates College.

November 17, 2000
2:02 pm

Bates College concludes its nine-part series "The Ecology and Politics of Maine Forests" with two final talks in November and December. Environmental planner Joshua Royte of the Nature Conservancy will discuss "St. John River: Conservation and Management" at 2:40 p.m. Tuesday, Nov. 28, in Edmund S. Muskie Archives at Bates College. Jennifer Melville of Trust for Public Land will discuss "Conservation Easements" at 2:40 p.m. Tuesday, Dec. 5, in Skelton Lounge, Chase Hall. The public is invited to attend these 80-minute talks free of charge.

November 1, 2000
1:17 pm

Comedian Elayne Boosler, one of the busiest comedians touring the country today, will perform at 7 p.m. Saturday, Nov. 4, in the Bates College Chapel in an appearance sponsored by the Bates College Democrats. The public is invited to attend free of charge.

November 22, 1999
12:00 am

Bates College students enrolled in "Public Opinion," an advanced-level seminar taught by Douglas Hodgkin, professor of political science, are investigating the Nezinscot River Dam for the town of Turner and a proposed middle school for the town of Sabbatus.

December 1, 1997
11:27 am

The president of the Moscow Public Science Foundation will discuss "Management, Military Reform and Law (Local Government)" at 7:30 p.m. on Dec. 4, in the Muskie Archives.

August 28, 1997
2:58 pm

Mark A. Kessler, professor of political science at Bates College, has received the Best Treatment of Women and Minority Groups in a Political Science Text award from the Women's Caucus of the American Political Science Association. Kessler was honored for The Play of Power (St. Martin's Press, 1996), a textbook he co-authored that concerns the integration of women and minorities into the U.S. government and political system.

June 4, 1997
11:11 am

A political scientist was promoted to full professor at Bates College, and four other faculty members received tenure and were promoted to associate professors, effective July 1, announced President Donald W. Harward.

September 24, 1996
10:28 am

The presidency of Richard M. Nixon, an important chapter in recent American history, will be the focus of a conference for Maine teachers on Friday, Sept. 27, at the Edmund S. Muskie Archives.

March 12, 1996
10:52 am

The final part of Miller's talk will consider the stragegies devised by the civil rights movement within Maine as well new directions in social transformation pursued by the contemporary African American community.