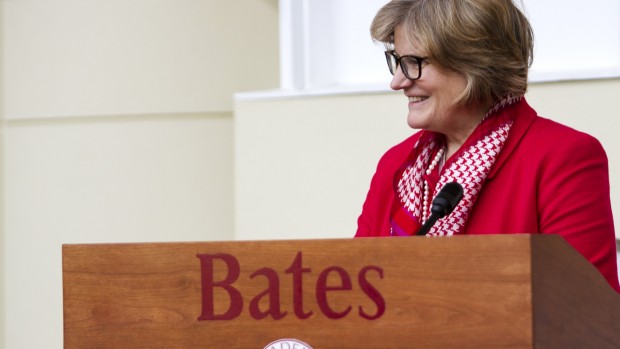 "We have ambitious goals for Bates, and I am inspired by this outpouring of support from the college community," said President Clayton Spencer.
Published on
Description

---

May 22, 2009
2:50 pm

As students choose just one intensive course from a portfolio of offerings, Bates' Short Term is amenable to all kinds of academic experimentation. But one of its most desirable qualities is the precious time it affords for sustained concentration.

May 1, 2009
1:58 pm

"We're in the middle of a revolution," Bates President Elaine Tuttle Hansen said at midday on April 30, "and it's a hard place to see from."

April 20, 2009
1:42 pm

The annual Presidential Symposium

March 10, 2009
12:04 pm

The Icelandic newspaper Fréttablaðið took note of dance band FM Belfast's tour of the U.S., including a stop at Bates College that was sponsored by WRBC-FM. Besides offering a concert, the Icelandic band participated in a discussion about the recession in their homeland.

March 1, 2009
12:39 pm

For about a decade after the 1991 fall of the Soviet Union, hundreds of millions of Western dollars poured into Russia to promote civil society. The money, however, didn't do the trick, and some of the reasons why are explained in a recent article by Professor of Politics James Richter titled "Integration from Below: The Disappointing Effort to Promote Civil Society in Russia," published in Russia and Globalization: Identity, Security, and Society in an Era of Change (2008), edited by Douglas Blum.

January 25, 2009
12:49 pm

Tom Whalen '86 was part of a CNN panel that discussed President Obama's inauguration speech. Whalen, author of A Higher Purpose: Profiles in Presidential Courage, said the speech "overall [was] not a speech for the ages, but a speech for our times and the concerns people have. In many ways, it reminds me of a coach giving a halftime locker room speech to his team that's behind in the game. What Obama saying is that we have to make improvements or adjustment in order to prevail."

January 15, 2009
2:11 pm

In my second class of my first day of the new semester, I was taken aback. The professor, who I only knew through one other class, taken two years ago, recognized me and remembered my name. He walked up to me as soon as he entered the room and said, "Graham, right?" I replied, "You got it." And he pointed out, "I see you've moved from sitting in the back of the class to the front in four semesters." Later, while reviewing the syllabus, he announced, 'Graham here works at the Ronj, and has previously arranged video showings for my class. Can we do that again this year?

January 12, 2009
3:20 pm

In a New Yorker essay about presidential rhetoric, Jill Lepore highlighted the book Rhetorical Presidency by Jeff Tulis '72, who suggests that the founding fathers didn't expect or even want the president to communicate directly with the masses.

January 6, 2009
12:00 pm

Melissa Harris-Lacewell, associate professor of politics and African American studies at Princeton, is the keynote speaker for the 2009 Martin Luther King Jr. Day observances at Bates College.

November 16, 2008
1:16 pm

I never thought when I came to Bates that I would act in a play, but that's one of the great things about this college. If you put yourself out there, there are a ton of opportunities to try new things and get involved in programs, clubs, and activities you never imagined you would be interested in.