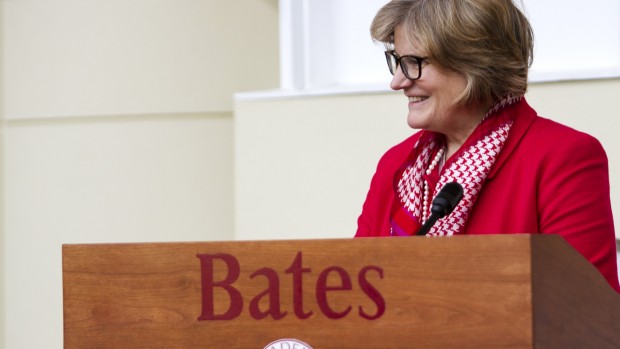 "We have ambitious goals for Bates, and I am inspired by this outpouring of support from the college community," said President Clayton Spencer.
Published on
Description

---

May 30, 2000
12:02 pm

David Barlow, Bates College class of 1979, and his wife, Ann Barlow of Wellesley, Mass., have made a $1.5-million gift to support the experience of Bates students, faculty and alumni studying abroad, President Donald W. Harward announced.

April 27, 2000
1:13 pm

Georgia N. Nigro, Whitehouse Professor of Psychology at Bates College, will lead a roundtable discussion on "Adolescence at the Millennium: Tales From the Field" at 4 p.m. Friday, May 12, in the Keck Classroom, Pettengill Hall, Bates College. The event, which celebrates Nigro's appointment as the Whitehouse Professor of Psychology at Bates, is open to the public free of charge.

April 10, 2000
12:31 pm

Kathryn Graff Low, a clinical psychologist and associate professor of psychology at Bates College, has been selected as a finalist for the first Pizzagalli Construction Company Celebration of Excellence Award.

March 12, 1999
10:50 am

Thomas J. Wenzel, Charles A. Dana Professor of Chemistry at Bates College, has received the 1999 American Chemistry Society (ACS) Division of Analytical Chemistry J. Calvin Giddings Award for Excellence in Education.

October 9, 1998
2:11 pm

Paula Matthews, associate librarian and music librarian of the George and Helen Ladd Library at Bates College, has been elected vice president/president-elect of the Music Library Association (MLA). The organization's election results were announced at its recent 67th annual meeting in Boston.

September 14, 1998
1:30 pm

Four assistant professors have been promoted to the rank of associate professor with tenure, two associate professors have been awarded tenure and four associate professors have been promoted to full professor at Bates College, announced President Donald W. Harward.

May 26, 1998
1:30 pm

Georgia Nell Nigro, associate professor of psychology at Bates College, has been named one of two 1998 recipients of the Maine Campus Compact (MCC) Faculty Service-Learning Award, one of the most prestigious awards for community service in the state of Maine.

April 1, 1998
1:44 pm

Jane Costlow, associate professor of Russian at Bates College, has won the 1997 Heldt Prize for best essay in Slavic women's studies. The award is given annually by the Association of Women in Slavic Studies. Costlow's essay, The Gallop, the Wolf, the Caress: Eros and Nature in 'The Tragic Menagerie', explores Lydia Zinovieava-Annibal's 1907 autobiographical novel, an account of childhood in Russia just before the revolution. The author was a turn-of-the-century writer married to the famous poet Ivanov.

March 30, 1998
4:19 pm

Bates has received a $1.2-million grant from the Christian A. Johnson Endeavor Foundation of New York City to establish a professorship in interdisciplinary studies, Bates' president Donald W. Harward announced.

February 23, 1998
4:03 pm

A $500,000 grant from the W.M. Keck Foundation of Los Angeles awarded to Bates College will support the construction of an innovative "kaleidoscope" classroom in the college's new $18-million academic building, scheduled for completion in the summer of 1999.