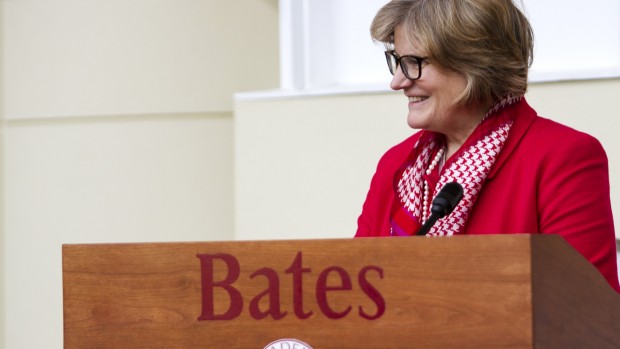 "We have ambitious goals for Bates, and I am inspired by this outpouring of support from the college community," said President Clayton Spencer.
Published on
Description

---

February 23, 1998
4:03 pm

A $500,000 grant from the W.M. Keck Foundation of Los Angeles awarded to Bates College will support the construction of an innovative "kaleidoscope" classroom in the college's new $18-million academic building, scheduled for completion in the summer of 1999.

February 11, 1998
2:29 pm

The Maine-based Libra Foundation founded by Elizabeth Noyce has awarded Bates College a $1-million grant to support the construction of the college's new $18- million academic building, scheduled for completion in the summer of 1999.

November 7, 1997
8:39 am

Robert J. Branham, professor of rhetoric and director of debate at Bates College, has received the latest American Forensic Association (AFA) Daniel Rohrer Award for "Stanton's Elm: An Illustrated History of Debating at Bates College," published in 1996.

October 27, 1997
11:37 am

Thomas J. Wenzel, Charles A. Dana Professor of Chemistry at Bates College, has been named the 1997 Carnegie Foundation for the Advancement of Teaching Maine Professor of the Year, announced the Council For Advancement and Support of Education.

August 28, 1997
2:58 pm

Mark A. Kessler, professor of political science at Bates College, has received the Best Treatment of Women and Minority Groups in a Political Science Text award from the Women's Caucus of the American Political Science Association. Kessler was honored for The Play of Power (St. Martin's Press, 1996), a textbook he co-authored that concerns the integration of women and minorities into the U.S. government and political system.

June 19, 1997
11:44 am

John Smedley, associate professor of physics, and Thomas Tracy, professor of religion, have been awarded a $10,000 grant by the John Templeton Foundation for their course "Caring for Creation."

May 1, 1997
11:52 am

Stanton Wortham, assistant professor of education at Bates College, has been honored with the Maine Campus Compact's Faculty Service-Learning Award. Wortham was recognized for designing several innovative service-learning projects, including a program in which Latino Bates students tutor and mentor Latino schoolchildren in S.A.D. 52 (Turner, Maine) schools.