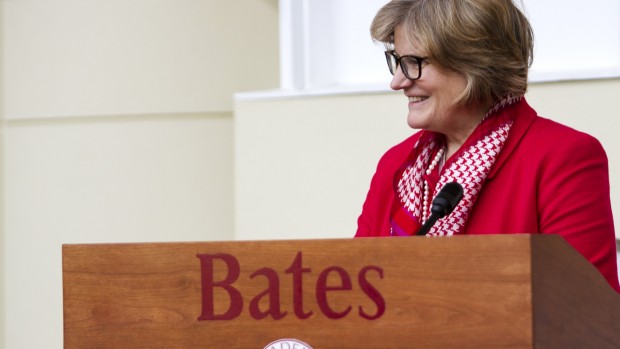 "We have ambitious goals for Bates, and I am inspired by this outpouring of support from the college community," said President Clayton Spencer.
Published on
Description

---

January 31, 2014
12:45 pm

Rachel Baumann's interest in her grandparents gained new intensity when, supported by a Phillips Fellowship, she spent summer 2013 researching their story of courage, audacity and survival as Jews in Nazi-controlled Europe.

January 31, 2014
12:37 pm

In Tanzania during the summer of 2013, Phillips Fellow Asha Mohamud '15 learned a valuable lesson about perspective.

January 30, 2014
2:44 pm

"It's hard to comprehend billions of years," says geology professor Mike Retelle.

January 29, 2014
10:40 am

For the fourth year, the Bates Arts Collaborative presented the Arts Crawl, a celebration of student creativity in the performing,…

January 29, 2014
9:09 am

The $1.2 million renovation features the new Digital Media Studios, a boon for faculty and students who use the screen to teach and learn.

January 28, 2014
1:19 pm

Winners of a 2011 Latin Grammy Award, the Brazilian Guitar Quartet performs at Bates on Feb. 1.

January 28, 2014
10:56 am

Prominent composers living in Maine present new music at 7:30 p.m. Friday, Jan. 31, in the Olin Concert Hall at…

January 23, 2014
3:50 pm

A schedule of events for the 2014 Arts Crawl.

January 22, 2014
10:19 am

As debaters from Bates and Morehouse colleges made clear, discussing Martin Luther King's dream raises more questions than it answers.

January 21, 2014
2:57 pm

Gary Younge painted a picture of events behind the 1963 March on Washington and King's speech that, paradoxically, made it all seem both inevitable and fortuitous.