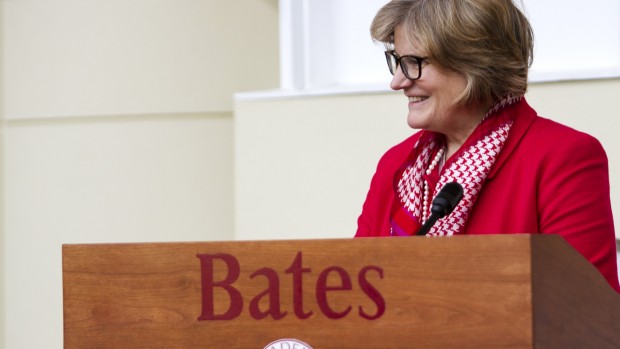 "We have ambitious goals for Bates, and I am inspired by this outpouring of support from the college community," said President Clayton Spencer.
Published on
Description

---

January 21, 2014
2:57 pm

Gary Younge painted a picture of events behind the 1963 March on Washington and King's speech that, paradoxically, made it all seem both inevitable and fortuitous.

January 21, 2014
2:54 pm

Bates presents Asia Night and the fourth annual Arts Crawl, a celebration of student creativity in the performing, literary and visual arts, the weekend of Jan. 24-25.

January 17, 2014
9:37 am

Playwright-actress Rohina Malik performs her critically acclaimed one-woman show "Unveiled," portraying five Muslim women living in a post 9/11 world, on Jan. 27.

January 14, 2014
8:51 am

The Language Arts Live series of literary readings resumes with poet Tyler Mills on Jan. 16.

January 10, 2014
2:04 pm

Caitrin Lynch '89, author of a book studying a factory whose workers are a median age of 74, gives a talk based on her research on Jan. 13.

January 6, 2014
2:06 pm

Bates will live-stream the keynote address and the annual Benjamin Elijah Mays Debate with Morehouse College.

January 6, 2014
1:30 pm

Opening on Jan. 23 are Bates College Museum of Art exhibitions exploring the field of collage and shamanist objects from northern Vietnam.

January 6, 2014
1:14 pm

For one of its two winter exhibitions, the Bates College Museum of Art focuses on collage, a genre often underrepresented…

January 6, 2014
12:58 pm

In an exhibition believed to be the most extensive of its kind in the United States, the Bates College Museum…

December 20, 2013
3:09 pm

Co-written by anthropologist Danny Danforth, a study of children's evacuation campaigns during the Greek Civil War has received a prestigious book prize.