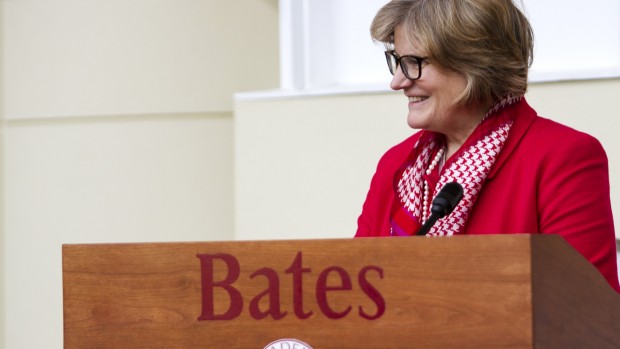 "We have ambitious goals for Bates, and I am inspired by this outpouring of support from the college community," said President Clayton Spencer.
Published on
Description

---

December 6, 2013
2:36 pm

"What I was doing to create a dance stemmed from fieldwork that was anthropological and choreographic," says Colleen Fitzgerald '14, who choreographed "Intricate Glances Will Meet Here."

December 4, 2013
10:49 am

Bates College dance major Colleen Fitzgerald performs "Intricate Glances Will Meet Here" Dec. 6-7.

December 4, 2013
10:36 am

Bates holds its annual Service of Lessons and Carols on Dec. 8.

December 3, 2013
12:47 pm

A Bates-directed archeological project in the Shetland Islands has won an environmental award from the Shetland government and environmental organizations….

December 2, 2013
3:39 pm

During just a few December days, the Olin Concert Hall is home to music including jazz, steel pan, orchestral pop and classical guitar.

December 2, 2013
3:36 pm

Göran Söllscher, a guitarist celebrated for virtuosity and a repertoire reaching from the Baroque to the present, performs on Dec. 8

December 2, 2013
3:25 pm

Both in 7 p.m. concerts, the Bates Jazz Band performs on Dec. 4, and the Bates Steel Pan Orchestra on Dec. 5.

December 2, 2013
3:15 pm

Arc Iris, a new orchestral pop project featuring singer and instrumentalist Jocie Adams, formerly of The Low Anthem, performs on Dec. 7.

November 22, 2013
3:21 pm

Pitting students, staff and other Bates folks against one another in a friendly quest to make recycling fashion-forward, the Trashion Show takes place every year before November break.

November 18, 2013
9:17 am

What does "space" mean to a neuroscientist?