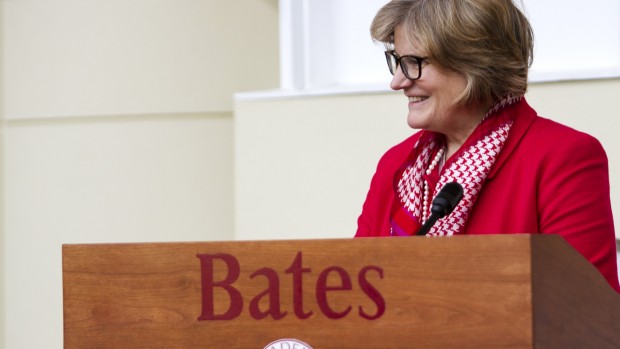 "We have ambitious goals for Bates, and I am inspired by this outpouring of support from the college community," said President Clayton Spencer.
Published on
Description

---

May 30, 2000
11:19 am

Christian McTighe, a Bates College junior from Delmar, N.Y., has been named a 2000 Phillips Student Fellow and will receive a grant of up to $10,000 to compare two contemplative paths, Roman Catholic monasticism and Zen Buddhist monasticism, at several sites in Japan this summer.

May 17, 2000
3:34 pm

Desmond Tutu, archbishop emeritus of the Diocese of Cape Town and winner of the Nobel Peace Prize for his advocacy of racial justice in South Africa, will receive an honorary doctor of humane letters degree and speak at the 134th commencement at Bates College. Donald W. Harward, president of Bates College, will confer bachelor's degrees on approximately 475 seniors at 10 a.m. Monday, May 29, in an outdoor ceremony in front of Coram Library. In case of rain, the graduation exercises will be held in the nearby Margaret Hopkins Merrill Gymnasium.

May 4, 2000
3:17 pm

Theater at Bates will stage four performances of the bluegrass gospel musical "Smoke on the Mountain" at 7 p.m. May 19, at 2 and 7 p.m. May 20 and at 2 p.m. May 21 at the Florence Keigwin Amphitheater, overlooking Lake Andrews on the Bates College campus. Admission is free with no reservations accepted. Rain site will be Schaeffer Theatre. Call 207-786 6161 for more information.

May 2, 2000
1:02 pm

Emerson "Tad" Baker, assistant professor of history at Salem State College and author of three books on early history and archeology of New England, will discuss "The Archeology of 1690: Excavating King William's War on the Maine Frontier" at 7:30 p.m. Tuesday, May 16, in Chase Hall Lounge, Bates College. The public is invited to attend free of charge.

April 27, 2000
1:13 pm

Georgia N. Nigro, Whitehouse Professor of Psychology at Bates College, will lead a roundtable discussion on "Adolescence at the Millennium: Tales From the Field" at 4 p.m. Friday, May 12, in the Keck Classroom, Pettengill Hall, Bates College. The event, which celebrates Nigro's appointment as the Whitehouse Professor of Psychology at Bates, is open to the public free of charge.

April 14, 2000
12:45 pm

Bates College students Kara McKeever of Westport, Conn.; David Sharratt of Canton, Maine; and Amanda Smith of Santa Fe, N.M., have been named 2000 Phillip J. Otis Fellows and will each receive a $5,000 grant for research and travel to promote greater understanding of environmental issues and the connection between the environment and spirituality.

April 13, 2000
12:40 pm

Bates College seniors Kristen Frederick of Columbia, S.C., and Weston Noyes of Salt Lake City, Utah, are two of 60 students nationwide recently selected to receive Thomas J. Watson Fellowships.

April 10, 2000
12:31 pm

Kathryn Graff Low, a clinical psychologist and associate professor of psychology at Bates College, has been selected as a finalist for the first Pizzagalli Construction Company Celebration of Excellence Award.

March 30, 2000
1:27 pm

Bates College students enrolled in "Literature and the Environment" will present the results of a semester-long project, "Celebrating the Places We Call Home: Stories From Lewiston-Auburn," a series of interviews conducted with 15 Lewiston-Auburn residents about places that have particular meaning for them, at 5 p.m.Friday, April 7, in Chase Hall Lounge on Campus Avenue. The public is invited to attend free of charge.

March 27, 2000
12:57 pm

Carol Joffee, an expert on the sociology of reproductive healthcare, will discuss "New Reproductive Technologies: Will They Reshape the Old Abortion Struggle?" at 4:10 p.m. Thursday, March 30, in Chase Hall on the Bates College campus. The public is invited to attend free of charge.