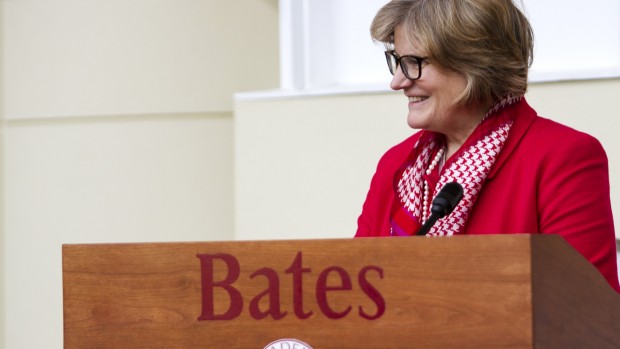 "We have ambitious goals for Bates, and I am inspired by this outpouring of support from the college community," said President Clayton Spencer.
Published on
Description

---

May 13, 2014
8:34 am

Described as "a thought-provoking documentary about the folly of shoreline construction in the Hurricane Sandy age," the film "Shored Up" will be shown on May 19.

May 12, 2014
4:39 pm

Bates College presents Lynn Siefert's 1987 play "Little Egypt," a bittersweet comedy about romance's roller-coaster rides in a small Midwestern town, May 15-18.

May 5, 2014
4:07 pm

Known for its dedication to contemporary music, the Momenta Quartet returns to Bates for a concert on May 9.

May 5, 2014
4:06 pm

Faculty pianist James Parakilas, Momenta Quartet perform as music majors present thesis projects on May 10.

May 2, 2014
9:00 am

Geology faculty and students head to Bates-Morse Mountain to place measurement rods deep in the marsh.

May 1, 2014
2:14 pm

Perou's findings are "fundamentally reshaping the scientific understanding" of cancer, says The New York Times.

May 1, 2014
11:58 am

Dumais' contributions have touched how we find, use and make sense of information from our computers and the Internet.

April 30, 2014
4:33 pm

Grammy award-nominated pianist Reiko Uchida and Thomas Meglioranza, called "one of America's finest young baritones," by Newsday, perform at Bates on May 2.

April 22, 2014
1:00 pm

In the storied history of Bates debate, the victory is believed to be the first national title by a Bates varsity team.

April 18, 2014
1:17 pm

French Professor Alexandre Dauge-Roth traveled to Italy to take part in events commemorating the 20th anniversary of the genocide in Rwanda.