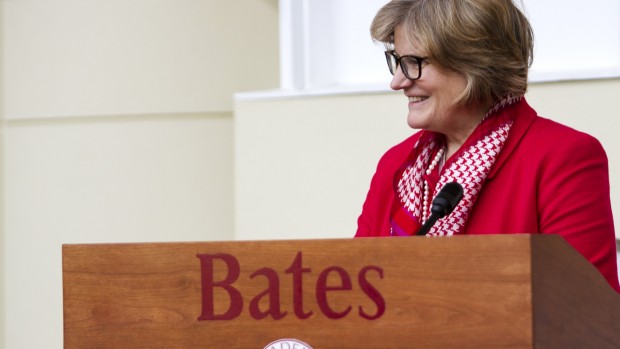 "We have ambitious goals for Bates, and I am inspired by this outpouring of support from the college community," said President Clayton Spencer.
Published on
Description

---

April 7, 2002
8:43 am

The first annual Mount David Summit will celebrate the strong intellectual life of the college.

March 27, 2002
3:24 pm

Diana Shaghayegh Sepehri, a Bates College senior born in Iran and now a resident of Sacramento, Calif., has received one of 60 prestigious research fellowships awarded this month by the Thomas J. Watson Fellowship Program.

March 19, 2002
3:31 pm

"I'm going to the gym now and work off some aggression," said Chris Mabbett '02, one of 47 ambitious Bates seniors to submit their senior honors theses last Monday.

February 13, 2002
9:28 am

Kristin J. Smith, a chemistry major, is one of four undergraduate students nationwide to receive the American Chemical Society's I.M. Kolthoff Enrichment Award.

November 5, 2001
2:56 pm

Five members of the Bates College science faculty took part last August in an institute sponsored by the Association of American Colleges and Universities (AAC&U). The outcome of the five-day summer institute was a new national initiative called Science Education for New Civic Engagements and Responsibilities (SENCER).

November 1, 2001
3:19 pm

As if spending a semester in London isn't exciting enough, a Bates College junior from Northeast Harbor also had the opportunity last month to meet one of this year's recipients of the Nobel Prize for medicine – just two days after the award was announced.

October 31, 2001
3:30 pm

For Bates College, a $5.5 million grant to Mount Desert Island Biological Laboratory (MDIBL) will translate into many more biomedical research opportunities for students and support for an expanded network of biomedical researchers. The National Institutes of Health grant was announced Tuesday (10/30/01) in Salisbury Cove, home of MDIBL.

October 25, 2001
1:28 pm

The Bates College Department of Economics ranks second in the nation in the number of times its faculty's scholarly research is cited by other researchers.

May 5, 2001
1:09 pm

Five Bates students presented work last month in Burlington, Vt. at the Geological Society of America's Northeastern regional conference, attended by nearly 900 geoscientists from New England.

January 29, 2001
9:35 am

Colby, Bates and Bowdoin colleges are pleased to introduce Maine's first statewide online library catalog. On January 4, the Maine Info Net system was turned on and the Colby, Bates and Bowdoin library collections, with more than two million items, became available to participating libraries throughout the state.