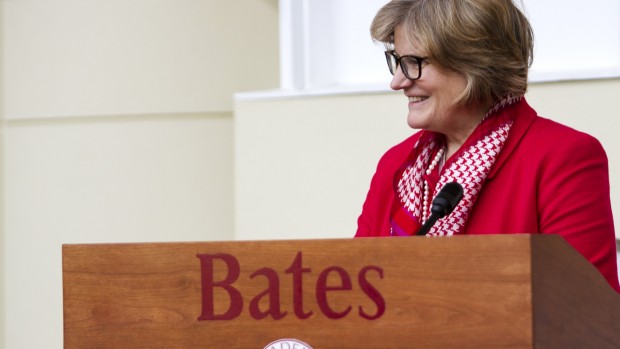 "We have ambitious goals for Bates, and I am inspired by this outpouring of support from the college community," said President Clayton Spencer.
Published on
Description

---

June 27, 2014
1:41 pm

The highly competitive Jack Kent Cooke Graduate Scholarships are worth up to $50,000 annually for graduate studies in the U.S. or abroad.

May 20, 2014
2:00 am

Worthy's recent death at age 92 attracted national attention, including obituaries in The New York Times and The Washington Post.

May 1, 2014
11:58 am

Dumais' contributions have touched how we find, use and make sense of information from our computers and the Internet.

April 21, 2014
3:00 pm

Stangle's visit was part of the Voices in Entrepreneurship series sponsored by the college's Purposeful Work initiative.

April 18, 2014
12:12 pm

Thomas Goetz '90, author of a new history that traces the intersecting careers of Arthur Conan Doyle and the scientist who showed the world that germs cause disease, speaks at Bates on April 28.

March 13, 2014
2:58 pm

You hear the word "endowment" and you probably think "college." But there's more out there, says Walter Dillingham '82.

February 21, 2014
10:41 am

In 2013, Wander created Days, an app that lets users gather their photos and GIFs in a daily, shareable package. "Days is a way to share a day in your life," Fisher says.

January 10, 2014
2:04 pm

Caitrin Lynch '89, author of a book studying a factory whose workers are a median age of 74, gives a talk based on her research on Jan. 13.

December 10, 2013
10:33 am

Spencer shared how Bates embraces technology while staying true to its culture and principles.

December 2, 2013
5:51 pm

The show follows series creator Ben Leoni '05 and fellow backcountry skiers as they head into the boondocks of the Northeast.