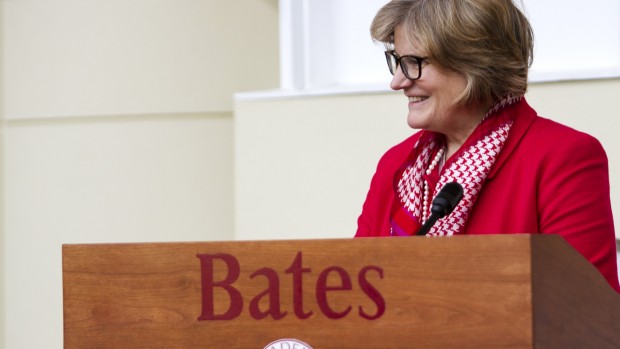 "We have ambitious goals for Bates, and I am inspired by this outpouring of support from the college community," said President Clayton Spencer.
Published on
Description

---

June 28, 2013
10:00 am

The Portland Press Herald and Lewiston Sun Journal each report and comment on the death of lawyer, art critic and…

May 10, 2011
10:29 am

Nora V. Demleitner '89, dean of the School of Law at Hofstra University, was honored at a March gathering of…

July 8, 2010
9:35 am

Roll Call reported the June 15 congressional testimony of environmental risk assessment expert Valerie Ann Lee '75, who discussed the…

December 23, 2009
6:20 am

In September, Joyce White Vance '82 was sworn in as the new U.S. attorney for the Northern District of Alabama, one of the first five U.S. attorneys appointed by President Obama.

July 1, 2009
10:39 am

At Reunion, two Bates classes 25 years apart talk about the pursuit of happiness.

May 24, 2009
12:23 pm

The Birmingham News profiles Joyce White Vance '82, a President Obama nominee as U.S. attorney for the Northern District of…

May 17, 2009
9:10 am

In the runup to President Obama's Supreme Court nomination of Sonia Sotomayor, NPR's Nina Totenberg mentions a few longshots, including…

April 28, 2008
9:45 am

Bates College seniors and alumni who applied to law schools for matriculation in autumn 2007 enjoyed a 74 percent acceptance rate, vs. the national average of 66 percent.

June 22, 2006
12:00 am

Considered to be the most competitive and prestigious U.S. public leadership program, White House Fellowships offer exceptional young men and women first-hand experience working at the highest levels of the federal government. Lena Sene '00 is among 14 White House Fellows appointed for 2006-07, the White House recently announced.

March 19, 2004
9:25 am

Eighty-six percent of Bates College seniors or alumni applying to graduate programs in the health professions were accepted for matriculation in fall 2003. Meanwhile, 84 percent of Bates seniors or graduates who applied to programs in law were accepted.