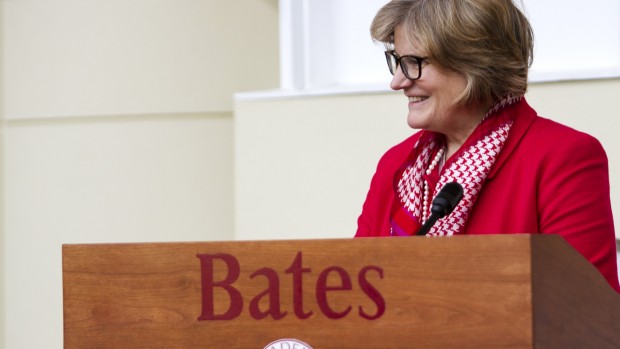 "We have ambitious goals for Bates, and I am inspired by this outpouring of support from the college community," said President Clayton Spencer.
Published on
Description

---

August 30, 2010
4:28 pm

A Bates College alumna who used her 2009 Watson Fellowship to study performance arts in South Africa and Indonesia returns to discuss her experiences at 7 p.m. Friday, Sept. 10, in the college's Benjamin Mays Center, 95 Russell St.

August 27, 2010
2:00 pm

View the story by Bill Walsh '86 on alumni involved in drug development.

August 27, 2010
2:00 pm

Off-Broadway director Arin Arbus '99 makes Shakespeare sizzle by keeping it simple By Charles Antin '02 Arin Arbus '99 and…

August 27, 2010
2:00 pm

From himself and his students, painter Joseph Nicoletti seeks what's real By Edgar Allen Beem "Generally speaking, my work is…

August 27, 2010
2:00 pm

The pharmaceutical industry stirs skepticism even as it saves lives. Alums in the drug business explain why By this fall,…

July 8, 2010
9:35 am

Roll Call reported the June 15 congressional testimony of environmental risk assessment expert Valerie Ann Lee '75, who discussed the…

July 8, 2010
9:05 am

The Palm Beach Post offers a Q-and-A interview with Joan Bering Kennedy '88, new president of Liberty Medical Supply, a…

July 8, 2010
8:00 am

A Cleveland Plain Dealer columnist profiles a group of young "Cleveland believers," including Graham Veysey '04, who are "bright, energetic…

July 7, 2010
2:17 pm

For its Project Economy series, southern Maine ABC affiliate WMTW-TV spotlights Pricefalls.com, the Dutch auction website founded by Bates economics…

April 30, 2010
11:51 am

At a recent luncheon, donors who have made the Bates' experience possible for a new generation met some of the students who benefit from their generosity.