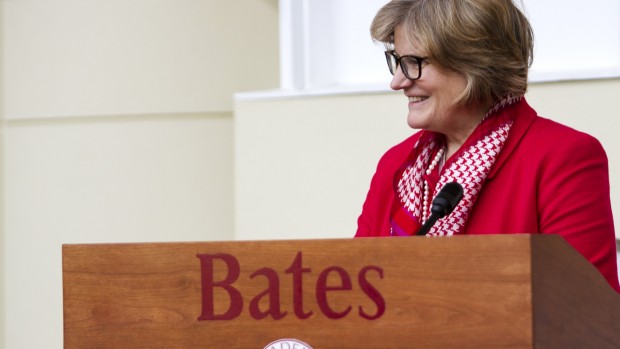 "We have ambitious goals for Bates, and I am inspired by this outpouring of support from the college community," said President Clayton Spencer.
Published on
Description

---

April 19, 2006
12:00 am

With help from a group of staff and faculty advisers at Bates, biology major Kelton McMahon recently won a National Science Foundation fellowship to study ecological geochemistry at the Woods Hole Oceanographic Institution. But what may be surprising about McMahon's good fortune is that he hasn't been a Bates student for a while. He graduated last year.

April 14, 2006
9:12 am

A year away from academe proved no disadvantage for Christopher Laconi '05. Shortly before graduation, Laconi was accepted by Harvard's Kennedy School of Government to pursue a master's in public policy. But Laconi, a Rhodes Scholarship finalist, deferred matriculation one year so that he could travel in Europe "for work and pleasure" and then consult for nonprofits in Boston.

March 8, 2006
12:00 am

Kate Gilmore, a New York-based video and performance artist, visits Bates College to present a video lecture about her work at 6 p.m. Thursday, March 9, in Room 104 of the Olin Arts Center, 75 Russell St.

January 19, 2006
12:42 pm

On successive evenings in February, Bates College presents two lectures by noted scholars from the law schools at Columbia and Yale universities. Alan Schwartz '61, Sterling Professor of Law at Yale Law School, offers a talk titled "The Economic Rationality Assumption and Its Challengers" at 7:30 p.m Wednesday, Feb. 1, in the Edmund S. Muskie Archives, 70 Campus Ave. Patricia Williams, columnist for The Nation and James L. Dohr Professor of Law at Columbia Law School, gives a lecture titled "Reconstructing Civil Rights for an Uncertain Future" at 7:30 p.m. Thursday, Feb. 2, in the Bates Chapel, College Street.

December 23, 2005
3:02 pm

A pioneer in the field of African American women's history and chair of the Department of African American Studies, University of Maryland, College Park, Professor Sharon Harley is the keynote speaker for the 2006 Martin Luther King Jr. Day observances at Bates College.

October 12, 2005
3:56 pm

Ninety-six percent of Bates College seniors and alumni applying to graduate programs in the health professions for fall 2005 matriculation were accepted.

Ninety-one percent of Bates applicants were accepted into medical or osteopathic schools, vs. a national average of around 49 percent, according to a report issued on Oct. 10 by the college's Medical Studies Committee.

July 28, 2005
9:25 am

President Elaine Tuttle Hansen has announced five appointments to the Bates College Board of Trustees: Robert E. Burke of Boston, Mass.; Marjorie Northrop Friedman of Dallas, Texas; Jennifer L.Guckel of Charlestown, Mass.; Dana Petersen Moore of Baltimore, Md.; and Quoc K. Tran of Omaha, Neb.

April 8, 2005
10:01 am

Bates College is one of the nation's best colleges fostering social responsibility and public service according to The Princeton Review and Campus Compact.

April 6, 2005
9:39 am

Michael J. Retelle, a professor of geology at Bates, is one of 13 scientists across the nation to share nearly $1,500,000 in National Science Foundation funding for Arctic research related to global climate change.

April 6, 2005
9:34 am

Thanks to two Bates College fellowship programs, nine Bates students will have the opportunity to pursue cultural and environmental research in countries around the globe this year.