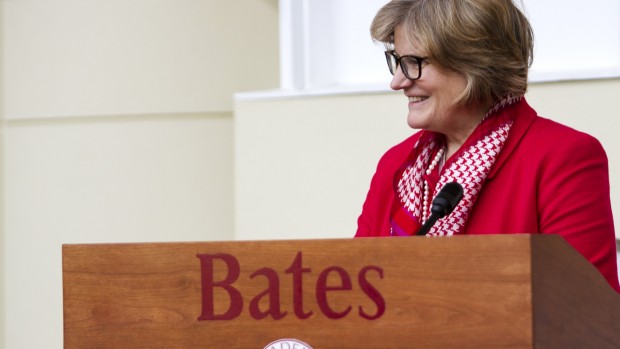 "We have ambitious goals for Bates, and I am inspired by this outpouring of support from the college community," said President Clayton Spencer.
Published on
Description

---

February 25, 2013
5:52 pm

Written by Eddie Borey, the cross-cultural family drama Christmas in Hanoi features Joseph Kim '96 in one of the lead roles.

February 25, 2013
11:02 am

McGrory once served 52 readers as a Boston Globe paperboy and now serves over a million as the paper's new editor.

February 25, 2013
9:32 am

Drew Gallagher '11 believes all his students "have the ability to rise."

February 20, 2013
11:16 am

Let Dave Thompson '81 put dinner on your table.

February 19, 2013
3:38 pm

It's a kick to Skype with Grandma or a job candidate, but would you want to have an interactive video session with your favorite retailer?

February 19, 2013
1:02 pm

An African monkey known as a lesula was recently confirmed as a new species by Kate Detwiler '95 and her fellow primate researchers.

January 31, 2013
3:55 pm

Hilary Poriss '91 explores the surprising variety of tasks expected of 19th-century opera singers in a lecture on Feb. 6.

January 18, 2013
10:16 am

The blog, featuring objects from the Cooper-Hewitt National Design Museum collection, is the brainchild of Caroline Baumann.

December 6, 2012
4:24 pm

These first-graders at Equitas Academy in Los Angeles have made Bates their own.

December 5, 2012
1:44 pm

Lena Sene '00 is a managing parter with Deer Isle Capital and an expert on global investing in Africa.