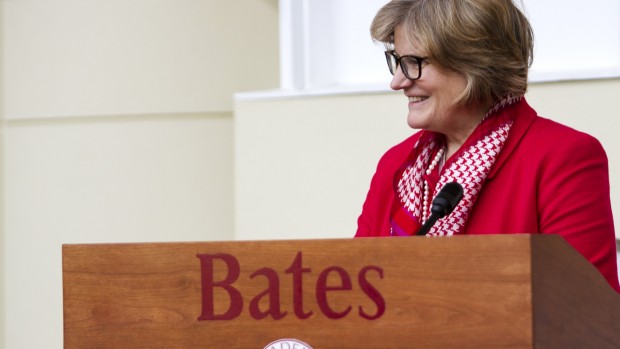 "We have ambitious goals for Bates, and I am inspired by this outpouring of support from the college community," said President Clayton Spencer.
Published on
Description

---

January 19, 2012
11:54 am

Bates board chair Mike Bonney '80, CEO of Cubist Pharmaceuticals Inc., is one of the six best corporate leaders in the U.S., according to a leading financial news publication.

January 12, 2012
3:11 pm

Win Brown '89 is the new president and CEO of Heywood Hospital in Gardner, Mass., and was recently interviewed by the Telegram & Gazette.

January 10, 2012
9:44 am

Alexandra Strada '10 has received the 2011 InFocus Photography Award.

December 14, 2011
8:41 pm

The Wall Street Transcript features an interview with analyst Rachael Rothman '91, who covers the restaurant, gaming, lodging and leisure…

December 14, 2011
7:20 pm

The Peninsula Daily Times of Port Angeles, Wash., describes efforts by Ellen Sabina '09 to create a vegetable garden at…

December 13, 2011
4:01 pm

The New York Times was among many media outlets reporting on the private meeting Dec. 5 between President Obama and…

December 9, 2011
9:50 pm

The bold and creative work of photographer Ryan Heffernan '05 has been the focus of visual communications media outlets. Communication…

September 1, 2011
9:30 am

An economics major at Bates, Stern received a Fulbright to study for a master's of business administration at IE, a business school in Madrid. Aspiring to do business development that is socially and environmentally sustainable, particularly with women entrepreneurs in the Third World, Stern has selected IE because of its international leadership in this field.

August 31, 2011
12:50 pm

Emily Grady '10 has received a Fulbright assistantship for teaching English in Argentina. As an environmental studies major at Bates, Grady co-founded two student environmental organizations, lobbied Maine's senators for comprehensive climate legislation and co-founded an environmental leadership training program for Bates students.

August 31, 2011
12:30 pm

Ana Brzezinska '11 has received an English Teaching Assistantship from the Fulbright U.S. Student Program. These grants support recipients in positions as teaching assistants who work with local students on their English language skills and knowledge of the United States. As the same time, the teaching assistants pursue individual research.