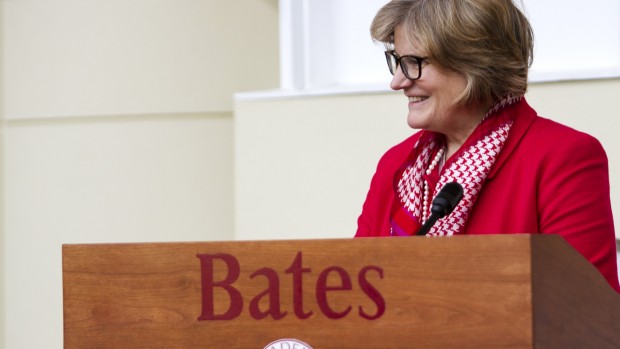 "We have ambitious goals for Bates, and I am inspired by this outpouring of support from the college community," said President Clayton Spencer.
Published on
Description

---

July 27, 2006
12:00 am

Joseph T. Willett '73 of Ridgewood, N.J., has been elected the new chair of the Bates board of trustees, President Elaine Tuttle Hansen and trustees have announced. Willett succeeds Burton M. Harris '59, who retired from the board following 23 years of service, including five as chair.

July 25, 2006
12:00 am

Jason Rafferty of Greenland, N.H., a 2005 magna cum laude graduate of Bates College, has received a prestigious Jack Kent Cooke Fellowship, one of the nation's largest graduate study awards. Rafferty is one of 77 graduate and professional students chosen from among 1,100 applicants.

June 22, 2006
12:00 am

Considered to be the most competitive and prestigious U.S. public leadership program, White House Fellowships offer exceptional young men and women first-hand experience working at the highest levels of the federal government. Lena Sene '00 is among 14 White House Fellows appointed for 2006-07, the White House recently announced.

June 9, 2006
12:00 am

Bates alumni arriving for their College's 138th Reunion anticipated traditional revelry and fellowship as well as a chance to honor their own. All awards will be presented Saturday during the midday Alumni Awards Ceremony, held in Merrill Gymnasium due to rain.

May 10, 2006
12:00 am

Award-winning writer Alake Pilgrim, a member of the Bates College Class of 2003, returns to campus for a two-week residency in May that includes reading her short stories, screening a film about immigration and giving a talk about religious identity. These events, cosponsored by the English department and the program in African American Studies, are open to the public free of charge. For more information, call 207-786-8294.

April 19, 2006
12:00 am

With help from a group of staff and faculty advisers at Bates, biology major Kelton McMahon recently won a National Science Foundation fellowship to study ecological geochemistry at the Woods Hole Oceanographic Institution. But what may be surprising about McMahon's good fortune is that he hasn't been a Bates student for a while. He graduated last year.

April 14, 2006
9:12 am

A year away from academe proved no disadvantage for Christopher Laconi '05. Shortly before graduation, Laconi was accepted by Harvard's Kennedy School of Government to pursue a master's in public policy. But Laconi, a Rhodes Scholarship finalist, deferred matriculation one year so that he could travel in Europe "for work and pleasure" and then consult for nonprofits in Boston.

March 8, 2006
12:00 am

Kate Gilmore, a New York-based video and performance artist, visits Bates College to present a video lecture about her work at 6 p.m. Thursday, March 9, in Room 104 of the Olin Arts Center, 75 Russell St.

February 21, 2006
12:00 am

Bates has passed the $100-million milestone in its fund-raising campaign, announced Vice President for College Advancement Victoria M. Devlin. The $101 million in gifts and pledges through Jan. 31 is part of a six-year campaign to raise $120 million. Known as The Campaign for Bates: Endowing Our Values, the fund-raising drive will end June 30, 2006. The College's last campaign ended in 1996 having raised $59.3 million against a $50 million goal.

January 19, 2006
12:42 pm

On successive evenings in February, Bates College presents two lectures by noted scholars from the law schools at Columbia and Yale universities. Alan Schwartz '61, Sterling Professor of Law at Yale Law School, offers a talk titled "The Economic Rationality Assumption and Its Challengers" at 7:30 p.m Wednesday, Feb. 1, in the Edmund S. Muskie Archives, 70 Campus Ave. Patricia Williams, columnist for The Nation and James L. Dohr Professor of Law at Columbia Law School, gives a lecture titled "Reconstructing Civil Rights for an Uncertain Future" at 7:30 p.m. Thursday, Feb. 2, in the Bates Chapel, College Street.